Still more Monday morning rail news: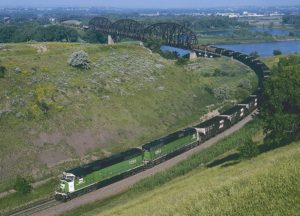 New agreement allows BNSF Bismarck bridge project to move forward without final decision on current bridge
BNSF Railway's long-running effort to replace its 138-year-old Bismarck-Mandan Rail Bridge over the Missouri River can continue to move forward after a new agreement between the railroad, the U.S. Coast Guard, and the group seeking to preserve the current bridge for its historical value. The Bismarck Tribune reports the agreement reached earlier this month outlines the responsibilities of the three parties whether or not the old bridge remains, and gives the preservation group Friends of the Rail Bridge 45 days to find an organization to fund a public-private partnership to manage the old bridge. The railroad's requirements include providing engineering drawings of the new bridge to a bridge advisory committee. The agreement does not specify a date to finalize whether or not the old bridge remains. BNSF has been working on permitting to replace the bridge for more than three years [see "BNSF focuses on regulatory challenges …," Trains News Wire, Jan. 8, 2019, and "Study says landmark Bismarck rail bridge could be converted …," News Wire, Aug. 19, 2019].
Canadian government provides $15 million for CN road-rail bridge in Montreal
The Canadian government announced it would provide $15 million over three years toward rehabilitation of Montreal's Victoria Bridge, a Canadian National Railway structure dating to 1854 that carries both rail and highway traffic. The bridge, which was modified to also include road traffic in 1898, is maintained for vehicles under an agreement between the railroad and Transport Canada. "We are very pleased to be working with the Government of Canada on this important investment," Sean Finn, CN executive vice president, corporate services, and chief legal officer, said in a press release. "The Victoria Bridge was the first bridge to connect Montreal and the South shore and remains a critical trade-enabling infrastructure that facilitates the flow of goods and commuters and it is an essential link in the North American economy."
Colorado's Moffat Road Museum adds caboose
The Moffat Road Railroad Museum in Granby, Colo., has added a much-traveled former caboose from the railroad to its collection. Sky-Hi News reports the car began as a wooden caboose in 1905 for the Denver Northwestern & Pacific, which was renamed the Denver & Salt Lake in 1911, was rebuilt after a wreck in the 1930s with a steel body, and was purchased by the Denver & Rio Grande Western in 1947. It was later sold to a chemical company for use as a weed sprayer, then went back to the Rio Grande in that role, which it continued until its retirement. After a lengthy stint in the backyard at a residence — it was intended to be a playhouse but was never converted — and a shorter stint in possession of a man who intended to restore it, the caboose was purchased by the museum, where it arrived on Saturday.