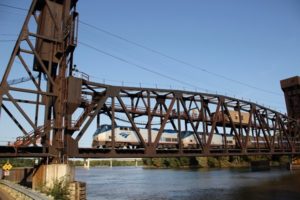 Wednesday morning rail news:
Minnesota Legislator fails to fund second Chicago-Twin Cities train
Efforts to launch a second daily Amtrak train between Chicago and the Twin Cities suffered a setback when the Minnesota Legislature adjourned without providing $10 million in matching funds for a federal grant to advance the plan. The Twin Cities Pioneer Press reports that the state needed to provide the $10 million, to go with $6.2 million from Wisconsin and $5 million from Amtrak, to accompany a Consolidated Rail Infrastructure and Safety Improvements Grant awarded last month [see "Effort to launch second Chicago-Twin Cities Amtrak train receives $31.8 million grant," Trains News Wire, Sept. 23, 2020]. The Great River Rail Commission, which represents 18 governmental bodies in Minnesota and Wisconsin, says it will try again to get the funding in 2021.
Groundbreaking ceremony to start work on South Shore's West Lake extension
A ceremonial groundbreaking for the South Shore Line's West Lake Corridor extension is set for today in Dyer, Ind., where one of the four stations for the new, $900 million, 8-mile spur line. Inside Indiana Business reports that Gov. Eric Holcomb and Federal Transit Administration Deputy Administrator Jane Williams will be among those taking part in the 10 a.m. ceremony, which will be live-streamed on the South Shore Facebook page. The Northern Indiana Commuter Transportation District projects trains will begin running on the branch in February 2025. The line will connect to the existing South Shore main in Hammond, Ind., and will offer six round trips to Chicago during peak periods, along with 12 off-peak trips between Dyer and Hammond.
MTA to begin voluntary COVID-19 screening for workers
New York's Metropolitan Transportation Authority will launch a voluntary COVID-19 screening program for frontline employees, Gov. Andrew Cuomo announced. Up to 2,000 workers will bes screened per week in testing at a series of rotation locations including bus depots, subway facilities, and commuter-train yards. The agency says it is the nation's first transit worker screening initiative. More details are available here.