Wednesday afternoon rail news: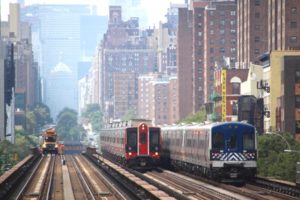 Metro-North, Long Island Rail Road complete PTC implementation
The two commuter railroads of New York's Metropolitan Transportation Authority have met the deadline for positive train control deadline. Metro-North Railroad President Catherine Rinaldi and Long Island Rail Road President Phil Eng made the announcement today the MTA's Mid-Day Storage Yard in Long Island City, N.Y. The Long Island Rail Road now has 305 route-miles fully operational with PTC, including the Harold Interlocking in Queens, where LIRR and Amtrak Northeast Corridor tracks connect to go to Penn Station. The complex 5-mile section of trackage at that interlocking was the last section to complete PTC implementation [see "Digest: LIRR, with just 5 miles of PTC still to complete …," Trains News Wire, Nov. 23, 2020]. Metro-North has 244.3 route-miles with PTC in operation. Among other elements, implementation of the safety system required 3,800 transponders for Metro-North and 4,274 for the LIRR. "Fulfilling this mandate prior to the deadline is a testament to our workforce, our partners in labor, and our collaborative success," Eng said in a press release. "The implementation of PTC adds to a roster of in-house initiatives we've employed over the past two years to make sure ours is as safe as possible for all." Rinaldi said completion of the PTC process "represents a historic leap forward in the safety and reliability of the system, and I couldn't be prouder of our team for achieving these milestones, despite supply chain and other challenges during the pandemic." MTA staff and personnel from contractors Siemens and Bombardier worked "around the clock for months" to complete the project, the release says.
New Mexico Rail Runner receives PTC certification
New Mexico's Rail Runner Express commuter service has also received positive train control certification. KRQE-TV reports that the Federal Railroad Administration notified the commuter line it had met the Dec. 31, 2020, deadline, with administrator Ron Batory saying in a press release that the system has been "conditionally certified," and that the FRA recognizes the "significant accomplishment" in meeting the deadline. Rail Runner service has been suspended since mid-March because of the COVID-19 pandemic.
MBTA extends use of reduced commuter schedule through at least Jan. 8
Reduced Massachusetts Bay Transportation Authority commuter rail service will be extended to at least Jan. 8, the Boston Globe reports. The current service reductions, which cut weekday operations from 541 to 246 trains daily, began Dec. 14 because of employee shortage resulting from COVID-19 absences. [See "Digest: MBTA to cut commuter rail service …," Trains News Wire, Dec. 11, 2020]. At that time, they were planned through Dec. 27.