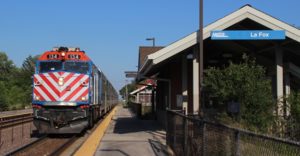 Wednesday morning rail news:
Metra says it is losing $1 million a month as UP won't collect fares
Union Pacific is not collecting fares from riders on the three Metra lines it operates, costing the commuter railroad $1 million a month in fares, Metra says. The Chicago Tribune reports UP, citing coronavirus safety concerns, is not allowing conductors to pass through the aisles to punch tickets, essentially allowing passengers to ride for free. A Metra spokesman said the decision is "hurting the system financially and is not fair to riders on the other lines who are being asked to show their fare," while a Union Pacific spokeswoman said "We are following CDC guidelines as we decide when it is safe to place employees back in public-facing positions, the same guidance helping businesses nationwide." Metra and Union Pacific are involved in an increasingly contentious fight over future operations of the UP North, Northwest and West lines, but the Union Pacific representative said the fare situation is unrelated. Union Pacific has sued Metra in federal court, and has said it will stop offering support services to Metra operations this fall. Metra asked the Surface Transportation Board to address the ongoing dispute [see "Metra asks STB for injunction against Union Pacific …," Trains News Wire, July 21, 2020], but the STB said it would hold any action in abeyance pending a court decision [see "STB defers decision in Metra-Union Pacific dispute," News Wire, Aug. 7, 2020].
Sacramento turns down light rail project, will return federal money
Sacramento Regional Transit will turn back $50 million in federal funding after voting down a plan for a 1.1-mile extension of the city's light-rail system that would have connected downtown to West Sacramento and the city's minor league baseball stadium via the landmark Tower Bridge. The Sacramento Bee reports the proposal was a more modest version of an original plan for a 4-mile streetcar line connecting downtown and West Sacramento's city hall. The deadline to approve the project and retain the Federal Transit Administration funds was this week.
Mt. Washington Cog Railway seeks permission to increase ridership capacity
The owner of New Hampshire's Mt. Washington Cog Railway has asked the state for permission to increase permitted ridership on the train from 50% to 60% of capacity. The Conway Daily Sun reports railway owner Wayne Presby has asked Gov. Chris Sununu's Reopening Task Force for the increase, spurred by concerns over a lack of shelter for passengers who choose to spend time at the summit of Mt. Washington.