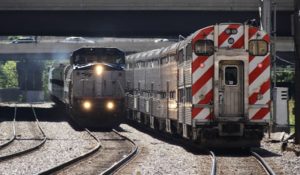 Thursday morning rail news:
Metra, Amtrak ask Surface Transportation Board for more mediation time
Saying they have made progress in their dispute over Metra's lease at Chicago Union Station, Metra and Amtrak have requested more time from the Surface Transportation Board for mediation. In a letter filed Nov. 2, Metra's attorney, filing on behalf of both parties, asked for an extension of the mediation period through Dec. 4. That period had ended Oct. 30. The letter from attorney Robert A. Wimbush says the two sides "have made significant progress" in mediation and believe "further mediation would benefit them and the Board by facilitating further agreement. … Mediation has already resolved certain issues, and may yet resolve all others" that are part of the process. Any unresolved issues would be brought to the board on or after Dec. 4, the letter says. The board ordered mediation in July after Amtrak brought the matter before the STB in May — the third time it had returned to the agency [see "Amtrak asks STB to settle dispute with Metra …," Trains News Wire, May 28, 2020].
Head of stakeholder committee is optimistic deal will preserve Huron Central operation
The head of a committee working to preserve service on the Huron Central Railway says all parties are in serious discussions, "and that is what we have been asking for, for some time." 
The Sudbury Star reports
 that Joe Fratesi, chair of the committee of stakeholders, says he remains reasonably confident a deal can be reached before the Dec. 18 date that Genesee & Wyoming says it will shut down the line between Sault Ste. Marie, Ontario, and Sudbury. He said local elected officials and the Prime Minister's office are involved in the talks, along with federal and provincial transportation officials. G&W said earlier this year it would shut down the line without some $40 million in government funding, and has given the railroad's 43 employees notice of their impending job termination [see "
Digest: Huron Central, preparing for shutdown …,"
 News Wire, Nov. 4, 2020].
Caltrain hails passage of measure providing dedicated funding
Caltrain has hailed the passage of Measure RR, which will give the Bay Area commuter railroad a dedicated funding source for the first time. The operation had previously been heavily dependent on fares, creating a drastic funding shortfall when ridership fell because of the COVID-19 pandemic. "With this victory, Caltrain has a bright future as it will now be able to provide congestion relief throughout the corridor by serving tens of thousands of new riders with a vastly improved, modernized rail system," Caltrain Board Chair Dave Pine said 
in a press release
. "… The people we serve have placed their faith in us with this vote, and with Measure RR we will continue to work to improve this vital service." The agency will begin receiving revenue from the one-eighth cent sales tax in San Francisco, San Mateo, and Santa Clara counties as of July 1, 2021. The agency had indicated it might have to shut down operations without the funding, which is expected to generate more than $100 million annually. [see 
"Digest: Caltrain could face shutdown …," 
News Wire, July 15, 2020].