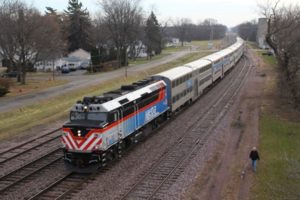 More Wednesday morning rail news:
Metra to make changes on UP North, Northwest schedules
Metra will adjust schedules on its Union Pacific North and Northwest lines as of Monday, Nov. 2, adding express trains and addressing gaps in the current reduced COVID-19 schedules. On the North line, changes include two inbound trains and one outbound that will run as expresses for part of their route, along with the addition of two inbound and two outbound trains. On the Northwest line, three new inbound and three outbound trains will be added. Details are available here.
North County Transit District offers STB details on fence, erosion projects
The North County Transit District has filed a 155-page document with the Surface Transportation Board rebutting filings opposing its request for an order regarding maintenance and safety-fence plans in the Del Mar Bluffs portion of its route between Oceanside and San Diego. The filing provide details plans for its proposed fence, including a 2020 risk study by consultant WSP, and a detailed presentation on the bluffs stabilization program. In an accompanying document, the district says it understands "a reply to a reply is not permitted … but believes this filing will only be helpful to the board and will not prejudice the other parties." The NCTD filed its request for an STB ruling on Aug. 28; it has since been opposed by the city of Del Mar, some residents, and the Surfrider Foundation, while the California Coastal Commission has asked the transit agency to withdraw its request [see "Digest: California Coastal Commission asks transit agency to withdraw petition to STB," Trains News Wire, Oct. 26, 2020].
Amtrak Inspector General says dealing with revenue drop is one of biggest challenges in company history
Amtrak's Office of Inspector General says the passenger railroad's ability to adapt after suffering history drops in revenue is one of the greatest challenges the company has faced in its 49-year history. The assessment is part of a biennial report by the office assessing Amtrak's top performance and management challenges, which also says the company must find a way to  protect its resources, including how it uses $3.1 billion in currently available cash, and its ability to manage projects after a significant decrease in the number of managers because of its voluntary buyout plan. The complete report is available here.