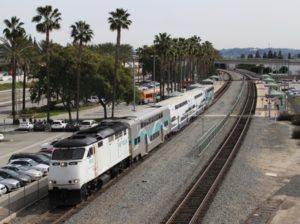 Thursday midday rail news:
First online meeting tonight on Metrolink Antelope Valley improvement project
The Los Angeles County Metropolitan Transportation Authority will hold online meetings tonight and Saturday to discuss planned improvements on Metrolink's Antelope Valley Line. The project includes double-tracking at three locations, new platforms at the Lancaster and Santa Clarita stations, and expansion of the Lancaster yard as part of an effort to make service possible on 30-minute intervals between LA Union Station and Santa Clarita, and 60-minute intervals to Lancaster. Tonight's scoping meeting will be held from 6-7:30 p.m.; Saturday's will be from 11 a.m. to 12:30 p.m. An overview and details on how to participate in the meetings are available here.
23-year-old becomes Durango & Silverton's first female conductor
The Durango & Silverton Narrow Gauge Railroad has its first female conductor. 
The Durango Herald reports
 Kylah Thompson, 23, has earned that distinction after joining the railroad in 2017, first as a photographer, then as a brakeman and a fireman. Darren Whitten, the railroad's superintendent of operations, said the railroad had two women who occasionally helped with conductor duties in the 1990s but Thompson is the first fully promoted conductor. The Colorado Springs native is also an emergency medical technician, and in July 2019 was instrumental in the rescue of a heart attack victim on an Animas River rafting trip.
Midwest Association of Rail Shippers awards 17 scholarships
The Midwest Association of Rail Shippers has awarded scholarships to 17 college underclassmen based on academic achievement, extracurricular activity, and community service. The Bernard J. Thomas Honorary Scholarship Award was given to Nora Chambers, who is studying at Northwestern University. Recipients of the MARS scholarships are: Hunter Barth, North Dakota State University; Carly Baun, University of Mississippi; Connor Boudreau, University of Nebraska–Lincoln; Katherine Chambers, Northwestern University; Lauren Comanse, Creighton University; Julianna DiDeo, Auburn University; Ricardo DiDeo, University of North Florida; Brianna Fay, University of Wisconsin–Madison; Danielle Fay, University of Wisconsin–Stevens Point; Maura Flahive, Wellesley College; Garrett Jackson, Saint Mary's University of Minnesota; Cate McCreavy, Salisbury University; Jacob Rude, Butler University; Analiese Tisa, University of Notre Dame; Paxton Tomlin, Western Carolina University; and Daisy Trujillo, Indiana University–Bloomington.