More Wednesday morning rail news: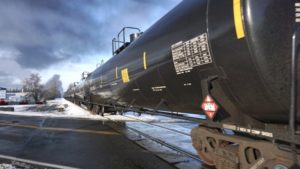 Investigation begins into BNSF derailment, fire
Fires were under control but continuing to burn late Monday at the site of a BNSF oil train derailment in Custer, Wash., as a host of agencies began their investigation into the accident. The Bellingham Herald reports those on scene included representatives of the National Transportation Safety Board, FBI, Environmental Protection Agency, state Utilities and Transportation Commission, local law inforcement and fire agencies, and the Whatcom County Sheriff's Division of Emergency Management. Sheriff Bill Elfo told a an afternoon press converence that no one had "been able to get close enough to the site to make an evaluation. … We want a thorough review and a thorough investigation to determine what caused the accident." Seven cars derailed shortly before noon on Tuesday in a train with more than 100 cars of Bakken crude oil, with two catching fire [see "BNSF oil train derails in Washington …," Trains News Wire, Dec. 22, 2020]. An evacuation order covering a half-mile area around the accident site was lifted by 5 p.m.
CSX derailment in Pennsylvania sends cars into pond
Fourteen cars of a CSX train derailed Tuesday afternoon in Hamiltonbad Township, Pa., with six ending in about 40 feet of water in a retention pool at a trackside factory, the York Daily Record reports. No injuries were reported. WPMT-TV reports the accident occurred about 12:25 p.m., and quotes CSX officials as saying seven of the cars were empty and none contained hazardous materials. The railroad said it was developing a recovery plan to remove the cars from the pond, and that the cause is under investigation.
Head of Caltrain, San Mateo transit agency to step down
The man who oversees Caltrain, San Mateo County transit agency SamTrans, and the San Mateo County Transit District is stepping down. The Palo Alto Daily Post reports Jim Hartnett is stepping down as CEO and general manager of the transit district after six years, following the power struggle that boiled over during the effort to launch a ballot initiative to fund Caltrain. Hartnett will depart in April, with Carter Manu becoming the transit district's acting CEO and GM, while Michelle Bouchard, Caltrain's chief officer of rail, becoming acting Caltrain Executive Director. San Francisco County Supervisor Aaron Peskin blocked measure RR, the ballot initiative that eventually passed to give Caltrain a dedicated funding stream, until San Mateo County officials agreed to share governance of the commuter rail agency. It had been run by San Mateo County, which also selects the Caltrain CEO via the SamTrans board. In a statement, the chair of the San Mateo County Transit District board of directors, Charles Stone, said, "Thanks to his leadership, the transit services that our communities depend on are well-prepared to survive the pandemic, and will emerge equipped with the resources needed to expand service and address the congestion issues that we all know will return."