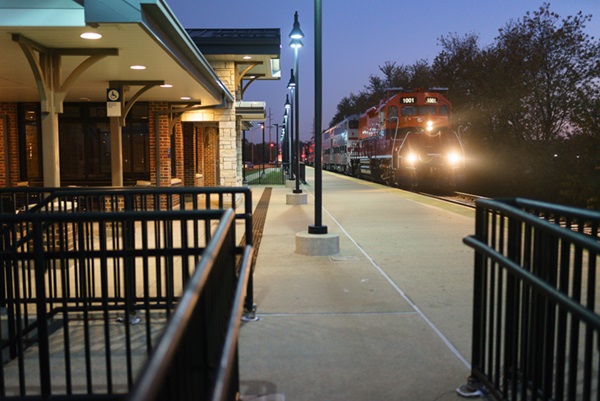 Wednesday afternoon rail news:
Groundbreaking for South Shore project features first 'commuter train' to Dyer, Ind.
Arriving on a South Shore Line train using parallel CSX tracks, officials at a groundbreaking Wednesday in Munster, Ind., for the commuter railroad's West Lake Corridor project touted the significance of the 8-mile, $945 million branch line that will provide direct rail service to Chicago for a new portion of Northwest Indiana. The Times of Northwest Indiana reports that Michael Noland, president of the Northern Indiana Commuter Transportation District, which operates the commuter trains, called it a "historic day, 30 years in the making," while the president of the Northwest Indiana Regional Development Authority called the project "the most significant investment we've made in ourselves in decades." The new passenger-only line will connect to the existing South Shore main in Hammond and provide direct service to and from Chicago during peak periods, with shuttle service to Hammond during off-peak hours. The project is now projected to be complete in 2026.
Anacortes council turns down two offers for 'Tommy Thompson Train,' plans static display
The Anacortes, Wash., City Council has voted to reject competing offers to restore to service a narrow gauge steam locomotive known as the "Tommy Thompson Train," and will instead make plans to place the locomotive and accompanying cars on static display. GoSkagit.com reports the council voted 5-2 to decline offers from Bret Iwan, a designer and restorer who wanted to buy the equipment and move it to California, and the local nonprofit Anacortes Railway Group, which wanted to restore and operate the train locally. The train, an 18-inch gauge mining locomotive from South Dakota and vintage cars built to match, were maintained and operated by local resident Thompson from 1979 until his death in 1999. His family had hoped to see the train go to Iwan. [See "Digest: Northwest Railway Museum to reopen Train Shed," Trains News Wire, Sept. 4, 2020]
British health worker beaten, thrown from subway train after confronting passengers not wearing masks
A worker for Britian's National Health Service was repeatedly punched and thrown from a London Underground train after confronting three passengers for not wearing masks on the train, as required by law. Newsweek reports the incident occurred Oct. 3 but is only coming to light now as British Transport Police appeal to the public for information and have released a photo of  a person of interest in the case. The health worker approached the two men and one woman about not wearing a mask; an argument ensued, followed by an assault in which the victim suffered an eye socket broken in three places and damage to his jaw.