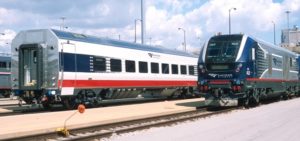 Monday midday rail news:
First IDOT cars arrive; testing to begin in September
The first four cars of the Illinois Department of Transportation order for equipment for state-supported regional Amtrak trains arrived in Chicago earlier this month, with four more en route from Siemens' Sacramento, Calif., factory. Testing is likely to begin in September for the "Venture" cars, based on the design originally produced for Florida's Brightline. The 88-car order will include cars in coach, coach-business, and coach-café configurations. Deliveries are expected to continue through 2023.
CN orders electric trucks for intermodal terminals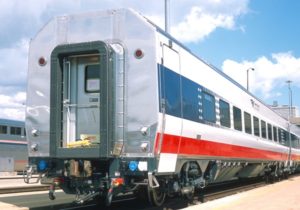 Canadian National will purchase 50 zero-emission electric trucks for use at intermodal terminals in urban areas. The 50-truck order represents the largest to date for Quebec's Lion Electric Co., and follows a pilot program using the custom-built vehicles that began on CN in April 2019. JJ Ruest, CN's CEO, said in a press release that the company is "pleased to support innovation in Quebec. This agreement is also part of our commitment to encourage economic recovery and reduce the carbon footprint of the global supply chain. The regulatory regime put in place by the federal government ensures an environment conducive to such investments."
KCS promotes Flores to vice president, automotive and intermodal sales
Kansas City Southern is promoting Rodrigo Flores to vice president, automotive and intermodal sales, effective Sept. 1. Flores is currently vice president, automotive, a position he has held since September 2019. His railroading career dates to 1997, when he joined Kansas City Southern de Mexico's predecessor; he served as director of KCS de Mexico's treasury department from 2000 to 2006, when he came to KCS headquarters in Kansas City. He moved into the automotive business unit in 2016.