Wednesday morning rail news: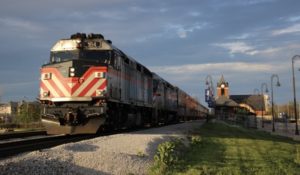 Suburbs close lots, seek other cuts with loss of Metra parking feets
Suburbs served by Metra are seeking ways to offset the loss in parking fees they have suffered during the COVID-19 pandemic, closing some lots and considering maintenance cuts. A Chicago Tribune report, focusing on the communities served by the Rock Island and Metra Electric lines, notes that Tinley Park has closed all or part of five lots at its two stations to save on snow plowing. In the first four months of its fiscal year, the city received $5,300 in parking revenue, compared to almost $116,000 in the same period a year earlier. Mokena, Ill., began fiscal 2021 estimating parking-fee income of $86,000, compared with a budged $328,000 in fiscal 2020. That ended up being $247,000 because of pandemic losses for part of the year. Other communities report similar losses.
Replacement of Bluefield bridge, source of friction between city and NS, to go to bid
The project to replace the Grant Street Bridge in Bluefield, W.Va., which has been closed since June 2019 and led to a threatened suit of Norfolk Southern by the city of Bluefield, should go to bid in February. The Bluefield Daily Telegraph reports that a West Virginia Department of Highways official says construction of the bridge should start in the spring and be done by the end of the year. Under a 1940 agreement, the railroad is responsible for maintaining the bridge superstructure and masonry supports; the railroad had recommended repairs rather than replacement [see "Digest: Report says CRRC production issues predated pandemic," Trains News Wire, Oct. 26, 2020], but highway officials helped reach an agreement between the railroad and city, and West Virginia Gov. Jim Justice announced $10.5 million in federal, state, and local funding for the project. NS turned over its ownership to the city and is contributing $500,000 to the replacement. The closure has left about 2,000 Bluefield residents with length detours to reach their homes.
NTSB plans two-part webcast on PTC
The National Transportation Safety Board has released additional details on Thursday's planned online discussion of positive train control, which will include two sessions covering 2½ hours. A one-hour session beginning at 1 p.m. EST will feature NTSB chairman Robert Sumwalt and three former NTSB chairs — Christopher Hart, Deborah Hersman, and James Hall — discussing the NTSB's role in the implementation of PTC. The second section, set for 90 minutes, will include NTSB investigators and other staff members reflecting on the challenges of responding to 154 accidents the agency says could have been prevented by the technology. The event, moderated by NTSB board member Jennifer Homendy, will be webcast here.