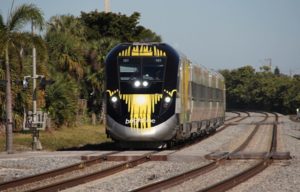 More Thursday morning rail news:
Miami-area groups form organization to push for commuter service on Brightline route
Miami-area business groups have organized to push for a proposal that would see commuter operations on the southernmost part of Brightline's route between West Palm Beach, Fla., and Miami. Bisnow.com reports organizations including the Wynwood Business Improvement District, Florida International University, and Miami-Dade College have formed the Northeast Corridor Coalition to support the effort to start the commuter service between Miami and Aventura, Fla., 17 miles north of downtown [see "Brightline negotiating to operate Miami-Aventura commuter service," News Wire Digest, May 27, 2020], which would include the construction of five new stations. Groundbreaking for a previously planned Aventura station is being held today, and the Wynwood group has already pledged to support construction of a station in its neighborhood [see "Digest: Business group to help pay for Miami neighborhood commuter station," Aug. 28, 2020]. Miami officials and Brightline are in negotiations about the possible service, though concerns remain about the cost.
Bailey Yard reorganization has Sept. 21 target date
Union Pacific hopes to complete consolidation of car-sorting operations to the current westbound hump at Bailey Yard in North Platte, Neb., by Sept. 21, the North Platte Telegraph reports. The railroad announced Wednesday that it would shut down one of the two humps at the facility, the world's largest classification yard, citing "improved customer shipment processing times" [see "Digest: UP to close one hump at North Platte's Bailey Yard," News Wire, Sept. 2, 2020].
Hillsborough County, Fla., acquire former CSX route for possible rail transit
Officials in Florida's Hillsborough County have approved an agreement to acquire unused CSX rail lines for possible future use in a Tampa-area rail transit system. WTVT-TV reports the right-of-way is adjacent to the former Museum of Science and Industry site, which the county would wants redeveloped and could become a mixed-use transit hub. The abandoned CSX line operated on an easement granted by the county; the agreement approved Wednesday returns that land to the county.