Hoosier Valley obtains builder's plate for 2-8-4, seeks National Register status for locomotive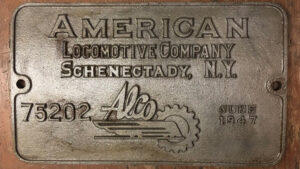 The Hoosier Valley Railroad Museum in North Judson, Ind., has acquired the builder's plate for Chesapeake & Ohio 2-8-4 No. 2789, reuniting the plate with the locomotive decades after the two were separated. The acquisition comes as the museum launches an effort to place the locomotive, built by Alco at its Schenectady, N.Y., plant in 1947, on the National Register of Historic Places. The plate is believed to have been removed from the locomotive sometime in the 1950s; museum secretary Kyle Flanigan is credited with doing the legwork to obtain the builder's plate. "Once these kinds of things are gone from a locomotive, they are usually gone forever," Flanigan said in a press release. "To have an opportunity like this, we simply could not let it slip away." No. 2789 is the last of 90 Kanawha-type locomotives built for the C&O, and the only surviving example of the five constructed with a welded boiler. Kurt Garner of Plymouth, Ind., who previously helped the museum develop its master plan, will work on the submission process for the National Register. "Very few transportation-related objects are listed on the National Register of Historic Places in Indiana," Garner said, "and the steam engine will be the first rail-related one."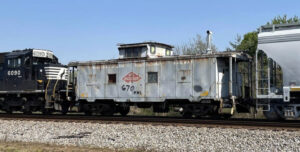 NC Transportation Museum adds caboose to collection
The North Carolina Transportation Museum has added the last caboose on the Winston-Salem Southbound Railroad to its collection, thanks to a donation from the railroad jointly operated by CSX Transportation and Norfolk Southern. The museum reports caboose No. 670 has been moved to the museum site in Spencer.
Chamber offers display train to Elizabethton, Tenn.
The city of Elizabethton, Tenn., is expected to become owner of a display train this week, when the Elizabeth/Carter Couunty Chamber of Commerce offers the city rolling stock at the former Chamber of Commerce property. The Johnson City Press reports the display equipment, fenced and under a roof, includes a fireless Porter 0-6-0 steam engine built in 1936, a former East Tennessee & Western North Carolina Railroad narrow gauge box car, and a Southern Railway caboose. The Chamber decided to present the train to the city since it no longer operates at the display site.