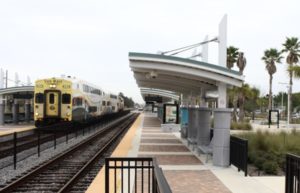 Still more Monday morning rail news:
Brightline to begin work on Tampa route in 2022; reaching Disney World a priority
Work on Brightline's planned Orlando-Tampa line line will not begin until 2022, with a goal of operation beginning in 2025. The Tampa Bay Business Journal reports Michael Cegelis, Brightline's executive vice president of rail infrastructure, laid out that timeline during a recent meeting in which he also said Brightline would study potential shared operations on some of the route with Orlando commuter railroad SunRail. If Brightline and SunRail reach agreement, Brightline would use existing SunRail tracks on part of its route to reach Disney World, while building right-of-way along Interstate 4 to reach Tampa. SunRail would gain the ability to reach Orlando International Airport via Brightline's tracks [see "Digest: Long Island Rail Road expansion project …," Trains News Wire, Oct. 9, 2020]. Reaching Disney World has become a higher priority than the Tampa route, playing a part in the current timeline.
MTA revises COVID-19 death toll downward, but suffers first death since June
New York's Metropolitan Transportation Authority suffered its first worker death from COVID-19 in four months earlier in October, but the death toll to the agency's workforce has been slightly revised downward. 
The New York Daily News reports
 that the official number of deaths from the coronavirus is 126, down from 131, after five workers were found to be inactive, meaning they were on leave or disability. The MTA board has created a $500,000 payment for the family of employees who died of COVID-19 after working during the pandemic; the inactive workers are not eligible for that payment. The death of a worker on Oct. 1 was the first for the agency since June because of the virus.

Proposed extension of Ottawa light rail will cost $3 billion, report says
A proposed extension of the Ottawa, Ontario, light rail system to suburban Barrhaven, about 10 miles south of downtown, will cost about $3 billion and require the removal of 120 rental housing units, according to an environmental assessment. The CBC reports the project would involve construction of about 6.2 miles of new tracks and seven stations, along with three new bridges over the rail route used by VIA Rail Canada. No funding has yet been identified for the project, so construction is at least seven to eight years away.