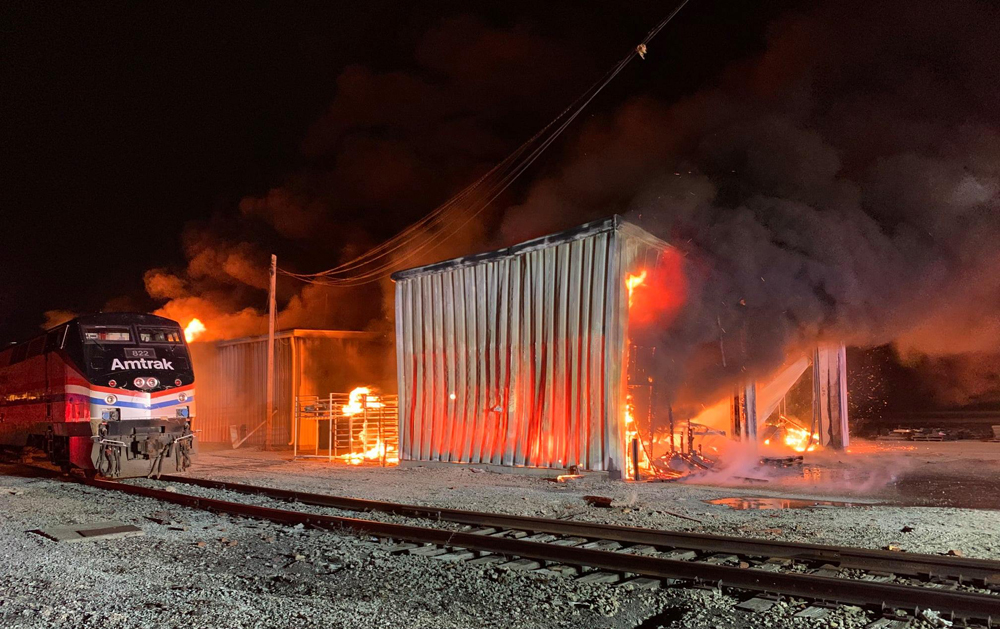 Investigators say Beech Grove shops fire was intentionally set
A fire that destroyed two storage sheds at Amtrak's Beech Grove, Ind., Heavy Maintenance Facility appears to have been intentionally set, according to investigators. WXIN-TV reports James Pierce, operations chief for the Beech Grove Fire Department, notes the two buildings that burned and collapsed were not connected, and said, "We're very confident that this was an intentionally set fire. Everything points in that direction." The FBI; Bureau of Alcohol, Tobacco, Firearms and Explosives; and Amtrak police are among the agencies investigating. The federal agencies are involved because of the government ownership of the facility. The fire destroyed structures used to store paint and cleaning supplies [see "News photos: Fire destroys buildings …," Trains News Wire, May 2, 2021]. An Amtrak spokesman said damage was set at more than $650,000.
Bakersfield city council vote buys time to save Southern Pacific station
A more than 130-year-old Southern Pacific station facing demolition has received a reprieve from the Bakersfield, Calif., city council. The Bakersfield Californian reports the Bakersfield council voted 6-0 to authorize a 12-month lease for the building with Union Pacific, which would buy time to find a developer to rehabilitate the structure. The station has been in continuous use since its construction in 1889, and is considered a defining structure in the area known as Old Town Kern. Hopes are that its refurbishment and use by local businesses could help revitalize the area, but some council members expressed concern about the possible cost, which could reach $5 million to $10 million. Union Pacific, which had been using the building, is replacing it with a new communications center [see "Digest: California Amtrak corridors to host online presentation …," Trains News Wire, March 19, 2021].
Ravinia now offering free Metra rides to concerts
Ravinia, the Chicago-area summer music venue, will offer free travel on Metra to its concerts this year through a new agreement with the commuter railroad. All trains on the Union Pacific North line will honor Ravinia tickets for free rides to and from the concert grounds. Some trains stop directly at the Ravinia Park station, adjacent to the Tyler Gate; service is also available to the Braeside station, a short walk from the concert grounds. More information is available here.