More Tuesday morning rail news: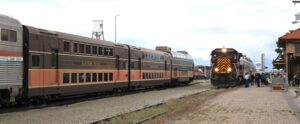 Bankruptcy trustee places former Iowa Pacific equipment on sale
More than 100 pieces of historic rolling stock, both passenger cars and locomotives, are up for sale as part of bankruptcy proceedings resulting from the receivership of Iowa Pacific Holdings. The equipment belongs to Heritage Rail Leasing; it and the San Luis & Rio Grande Railroad, principal subsidiaries of Iowa Pacific, were involuntarily placed into Chapter 11 bankruptcy, and are being sold by Tom Connelly, the Trustee appointed for HRL. According to a press release, the equipment is at various locations throughout the United States; some may not have been moved in years, and a lengthy list of conditions and disclaimers apply. Buyers will be responsible for moving any purchased equipment. For more information and a list of the equipment for sale, contact the Trustee at: Tom H. Connolly, Esq., P.O. Box 68, Lafayette, CO 80026-0068; tom@connollytrustee.com; or 303-661-9292.
Lake States historical society launches new online photo archive, updated website
The Lake States Railway Historical Association has unveiled a new online photo archive as part of its redesigned website, available here. The organization, based in Baraboo, Wis., has more than 35,000 imagines in the photo archive, and offers prints and digital images for sale, with proceeds supporting the association's archives operation. "We are very excited to bring our collections to the public," Paul Swanson, the association's vice president, says in a press release. "Rail historians, prototype modelers, authors, editors, archivists, and others will find this a valuable research tool, easily accessible from anywhere. … We plan to continue scanning negatives and transparencies from our collections for the foreseeable future. We want these to be available to the community."Photo collections include the work of Chicago natives Bruce Meyer and Lee Hastman, Wisconsin native Ed Wilkommen, DeKalb-based school superintendent F.R. Ritzman, and avid collector William S. Kuba from Cedar Rapids, Iowa. There are also collections of Illinois Central and Rock Island company photography (many scanned directly from glass plate negatives), builders' photos from AC&F and Ohio Falls Car Manufacturing Co., and some real photo postcards. Some images from the archive are featured on the society's Facebook page. The website also includes a searchable database on materials such as mechanical drawings from Fairbanks-Morse, Sheffield Motor Car, C&NW, Milwaukee Road, Rock Island, and others.
Amtrak inspector general report calls for better use of injury claims data
Amtrak's Safety and Operations departments could use injury claims financial data to better identify safety risks and how to mitigate them, according a new report from the Amtrak Office of Inspector General. While the departments use injury and accident reports to identify problems, the company's Claims department has not shared financial information because of privacy concerns. In addition to identifying safety issues, the claims information could help identify where to invest in improvements. As an example, the report cites how certain types of injuries, such as muscle tears and fractures, occur less frequently but are more tramatic. More information and a link to the full report is available here.