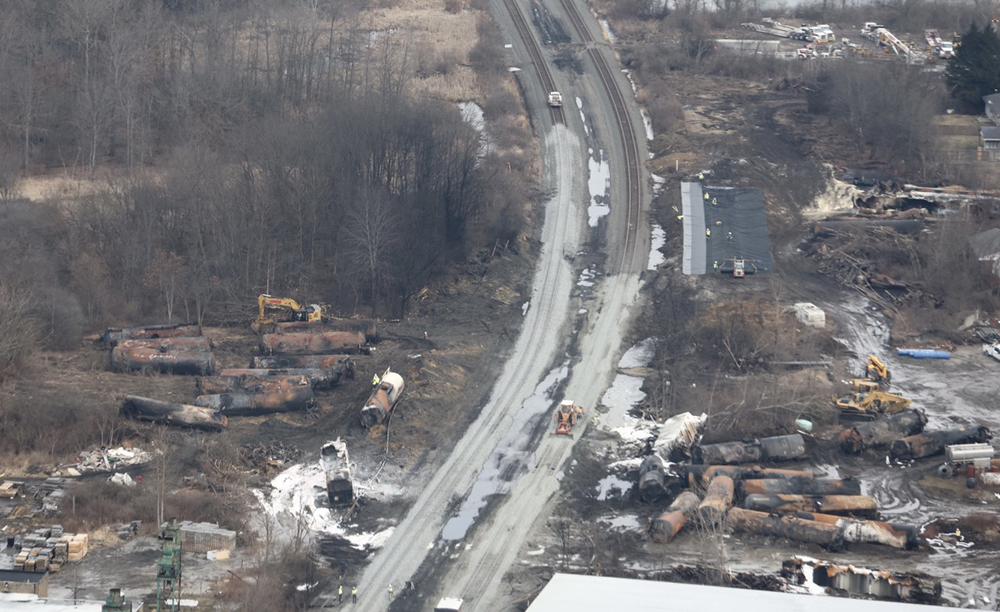 ---
EAST PALESTINE, Ohio — Removal of hazardous waste from the site of a Norfolk Southern derailment in East Palestine is slated to resume today (Monday, Feb. 27), after being paused Saturday by the U.S. Environmental Protection Agency over concerns regarding the moves by residents, as well as those in locations that were receiving the waste.
The Associated Press reports that Debra Shore, EPA's administrator for Region 5, said Sunday that the materials would be moved to EPA-certified locations in Ohio. "All of this is great news for the people of East Palestine and the surrounding community, because it means cleanup can continue at a rapid pace," she said.
On Saturday, Shore had told a news conference that waste disposal plans, including locations and transportation routes, would be subject to EPA review and approval, WTAE reported. She said she believed NS disposal measures had been "up to the standards that were in place" prior to the new EPA order, but indicated the agency sought to review "the transport of some of this waste over long distances and finding the appropriate and permanent certified cites to take waste, as we do with other contaminated sites."
Sites in Michigan and Texas had been receiving the contaminated soil and water, leading to an outcry in both locations. A firm near Houston, Texas Molecular, was accepting the water for a process of deep-well injection, KTRK-TV reports. Michigan halted the transport of the contaminated soil to a facility in Wayne County on Friday, WEYI-TV reports.
The deep-well injection is now slated to be done at a facility in Vickery, Ohio, about 150 miles from East Palestine and near Lake Erie between Cleveland and Toledo. Solid waste will go to an incinerator in East Liverpool, Ohio, 18 miles south of East Palestine.
In other developments:
Additional donations: NS on Friday donated $300,000 to the East Palestine School District, with $100,000 to go to each of the district's three schools, at the elementary, middle, and high school levels. The railroad said additional financial support would follow in the future.
In part, the donation was spurred because schools outside the district have forfeited athletic contests rather than play in East Palestine, leading to a loss of revenue for the district's sports programs and local businesses [see "Medical clinic to open this week …," Trains News Wire, Feb. 20, 2023].
"As soon as I heard that the East Palestine Bulldogs were not able to play in revenue-generating games, we took immediate action to help this community," said NS president Alan Shaw. "We continue to be committed to helping East Palestine residents get back on their feet."
NS also reimbursed the Village of East Palestine Fire Department approximately $825,000 for equipment used in the derailment response. It had previously provided $220,000 to fund new equipment.
Fish kill: An updated figure from the Ohio Department of Natural Resources estimated more than 43,000 fish and other forms of aquatic life were killed as a result of the East Palestine derailment. That figure includes more than 38,000 minnows and about 5,500 other species, such as crayfish and amphibians.
WKYC-TV reports all were located within 5 miles of the accident site, and all are believed to have been killed within 24 hours of the accident, according to the Department of Natural Resources. "We haven't seen any signs of fish in distress since that time," said DNR Director Mary Mertz. "Because the chemicals were contained, we haven't seen any additional signs of aquatic life suffering." Fish have already returned to some of the affected steams, she said.
The department can pursue both civil and criminal actions against NS because of the fish kill, Mertz said: "One of the reasons we do the estimate of total aquatic species killed is to give us a number for restitution. There will be a fulsome restitution number that we will work with Ohio Attorney General."
The new figure is a substantial increase from the initial estimate of 3,500 fish killed first reported by the department [see "Norfolk Southern plans wells to monitor groundwater …," News Wire, Feb. 14, 2023].
One-car derailment: The degree to which NS operations are under the microscope was illustrated Saturday when a Norfolk Southern derailment in Lexington, N.C., received national attention. Fox News reports that one wheelset on one car of a 132-car train derailed. No injuries or hazmat situation resulted; several trains of Amtrak's Piedmont service were delayed.