CHAMA, N.M. — The Cumbres & Toltec Scenic Railroad will convert one of its locomotives to oil firing, a move the railroad says is to "ensure it is prepared to safely function in a continually evolving operating environment."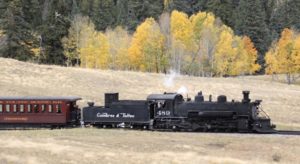 The conversion of K-36 2-8-2 No. 489, a 1925 Baldwin product, from coal to oil is to be completed in time for the 2021 operating season, the railroad says. It is a rare break from the Cumbres & Toltec's careful preservation of the railroad as it was under Denver & Rio Grande Western operation; like the D&RGW narrow gauge locomotives, those of the C&TS have always been coal-fired.
"We have not forgotten, nor will we ever forget, the importance of our historical DNA and the critical role the C&TS plays in preserving the most authentic steam railroading experience available anywhere, now and for future generations," interim CEO Eric Mason said in a press release. "We will strive to always have the best examples of operating coal-fired steam locomotives in service when conditions permit."
But the availability of an oil-fired locomotive will allow the railroad to operate in high-fire-danger conditions when use a coal-fired locomotive, which is substantially more prone to sending out sparks and cinders, might be too risky.
"The railroad is committed to protecting the incredible landscape and scenery it has the privilege operating in," the C&TS says in its press release. "Slowing or stopping operations for any more than a short period of time would be financially challenging to the railroad, its employees and the communities which rely upon it as one of the region's main economic drivers."
The conversion follows a similar move by the Durango & Silverton Narrow Gauge Railroad, the other major tourist operation on a portion of the former D&RGW narrow gauge. That railroad converted K-37 No. 493 to oil firing earlier this year, and is working on the conversion of K-28 No. 473 [see "Tests continue on first Durango & Silverton oil-burner …," Trains News Wire, Feb. 5, 2020]. It has also added diesel locomotives to its fleet. The D&S is currently facing a trial in which the federal government seeks to recover $25 million in U.S. Forest Service costs for fighting a 2018 wildfire the government says was started by cinders from one of the railroad's coal-fired locomotives [see "Judge recommends Durango & Silverton wildfire lawsuit moves forward," Trains News Wire, Jan. 2, 2020].