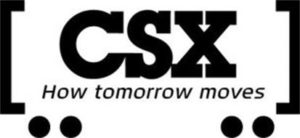 JACKSONVILLE, Fla. — CSX Transportation's service deteriorated in the fourth quarter as pandemic infections and quarantines affected train, engine, and yard crews across the system.
At the hardest hit terminals, up to 40% of employees were unable to come to work due to infections or quarantines, executives said on the railroad's earnings call on Thursday. Pockets of COVID-19 infections rose on the railroad after Thanksgiving and continued through December, in line with the upward trend in cases nationwide.
"Our employees have been impacted by the virus to the same degree as everyone else, if not more in the transportation sector," CEO Jim Foote says, "because they're essential workers and they're out on the front lines in and out every single day making sure the goods get across the country."
CSX volume rose 4% in the quarter, with stronger growth coming in December alongside rising infection rates. The coronavirus infections come amid disruptions in the broader supply chain as imports soared, e-commerce surged, and freight flows were imbalanced, Foote told investors and analysts on the railroad's quarterly earnings call.
Fourth-quarter intermodal trip-plan compliance was 84%, down from 95% a year ago, while carload trip-plan compliance was 75%, down from 83% a year ago. On time train departures fell 10%, to 83%, while on-time train arrivals sank 19%, to 69%.
"If you have some of those COVID pockets, where 40% of your terminal is off, and it takes you an extra six or eight or 10 hours to get a car through a terminal, that's a failure," says Jamie Boychuk, executive vice president of operations.
On the intermodal side, CSX prioritized UPS parcel traffic during December. And that meant that some international traffic, which is not as time sensitive, waited to move and did not meet trip plans as a result.
With the holiday UPS surge over, overall intermodal performance is improving, Boychuk says, and carload figures are moving in the right direction as well.
"We expect these trip plan figures will return to and then exceed our results from the beginning of 2020," Foote says.
Average train speed in the fourth quarter fell 11% compared to a year ago, while terminal dwell rose 21%. "Our dwell and velocity isn't where it needs to be," Boychuk says.