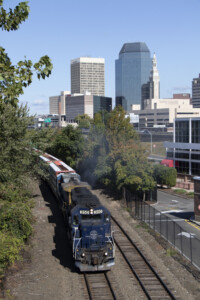 JACKSONVILLE, Fla. — CSX Transportation will acquire regional Pan Am Railways in a deal that will redraw the railroad map in New England.
CSX, already the dominant freight railroad in the region, will extend its reach into Vermont, New Hampshire, and Maine, as well as to Saint John, New Brunswick, via Pan Am's haulage rights agreement with Irving-owned short lines.
"In Pan Am, CSX gains a strong regional rail network in one of the most densely populated markets in the U.S., creating new efficiencies and market opportunities for customers as we continue to grow," CSX CEO Jim Foote said today in a statement announcing the deal. "We intend to bring CSX's customer-centric focus and industry-leading operating model to shippers and industries served by Pan Am. We look forward to integrating Pan Am into CSX, with substantial benefits to the rail-served industries of the Northeast, and to working in partnership with connecting railroads to provide exceptional supply chain solutions to New England and beyond."
Pan Am, a privately held company owned by 78-year-old Tim Mellon and other investors, went on the market earlier this year. CSX's bid beat two other suitors who were interested in acquiring the largest regional railroad in North America.
"Pan Am is pleased to reach this agreement with CSX, a North American leader in rail-based freight transportation," Pan Am President David A. Fink said. "This is great news for New England shippers and the national freight network overall."
Including haulage rights, Pan Am stretches 1,700 miles from the Albany, N.Y., area to Maine. It includes trackage of the former Maine Central, Boston & Maine, Portland Terminal, and Springfield Terminal railroads. Pan Am connects with four Class I railroads — CSX, Norfolk Southern, Canadian National, and Canadian Pacific — and 14 short lines. It also operates over Massachusetts Bay Transportation Authority commuter lines in the Boston area and hosts Amtrak's Downeaster service linking Boston with Portland, Maine.
CSX connects with Pan Am at Rotterdam Junction, N.Y., on its former New York Central Water Level Route, and outside of Worcester, Mass., via its former Boston & Albany main line, which is far and away the busiest freight route in New England. 
Pan Am entered the rail business in 1981 when the company, then known as Guilford Transportation Industries, purchased the Maine Central for $15 million. Two years later, Guilford purchased the bankrupt Boston & Maine for $24.5 million. Guilford acquired the Delaware & Hudson from Norfolk & Western for $500,000 in 1984, but cast it off into bankruptcy in 1988.
Guilford Rail System was rebranded as Pan Am in 2006. Despite the long-term decline of Maine's paper and forest product industries, as well as manufacturing across New England, Pan Am and Guilford have managed to turn a profit every year. 
Pan Am's traffic and revenue have been growing in recent years. Maine paper mills have rebounded after shifting production from paper used in printing to high-demand paper used in packaging. Propane, biodiesel, municipal solid waste, aggregates, and Poland Spring water are growing sources of traffic for the railroad, which also maintains considerable land holdings in the Boston area.
The CSX-Pan Am deal will face regulatory review from the U.S. Surface Transportation Board. Terms of the deal were not disclosed, although people familiar with the matter said the purchase price was approximately $700 million.
Norfolk Southern, in a November letter to the STB, raised regulatory concerns about a potential CSX acquisition of Pan Am.
NS serves New England via its Pan Am Southern joint venture with Pan Am Railways. A CSX acquisition of Pan Am Railways would include Pan Am's half of the Pan Am Southern joint venture.
The Pan Am Southern consists of 437 miles of rail lines and trackage rights routes, including the B&M main line between Mechanicville, N.Y., and Ayer, Mass., that provides NS access to the Boston area via its so-called Patriot Corridor. Pan Am's Springfield Terminal subsidiary operates the Pan Am Southern, which also includes the north-south route Pan Am uses between White River Junction, Vt., and its branches in Connecticut via Springfield, Mass.
On Monday, NS expressed concerns about what a CSX-Pan Am deal could mean for competition.
"In 2009 Pan Am Railways and Norfolk Southern negotiated a pro-competitive joint venture that resulted in the creation of Pan Am Southern," NS said in a statement. "That transaction was approved by the Surface Transportation Board in large part because the joint venture provided competition in the marketplace. Over the last decade, Norfolk Southern has ensured the success of that venture, and remains committed to it today. We now understand that CSX is poised to acquire Pan Am Railways. We are carefully considering the effects of this transaction, especially any competitive harm to the marketplace. We remain committed to working with any potential Pan Am Railways purchaser, the STB, and any other applicable regulatory agencies to protect shippers, commuters and rail passengers throughout the New England market."
But under a CSX acquisition of Pan Am, only a couple of shippers would go from two-railroad access to one, and no short lines would go from two Class I connections to one.
— Updated at 5:05 p.m. CST with statement from Norfolk Southern.