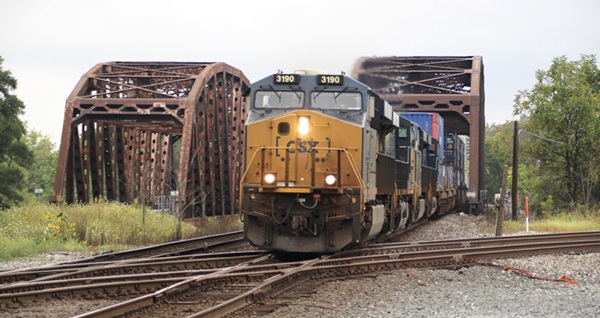 JACKSONVILLE, Fla. — CSX Transportation's profits and revenue fell during the first quarter as merchandise and coal traffic declines offset strong intermodal growth.
But executives remained optimistic about overall traffic growth this year as the economy continues to recover from the pandemic.
"We entered the year projecting volume growth in excess of GDP and still expect to achieve this target," CEO Jim Foote told investors and analysts on the railroad's earnings call on Tuesday. "We will continue to attract demand throughout the year, and based on the combination of the strengthening economic outlook and our focus on converting additional volumes off the highway, we now expect to achieve double-digit full year revenue growth."
Quarterly operating income fell 7%, to $1.1 billion, as revenue declined 1%, to $2.81 billion. Earnings per share declined 7%, to 93 cents.
CSX's operating ratio increased 2.2 points to 60.9% as expenses rose 2%, which the railroad attributed to the impact of employee COVID-19 infections, harsh winter weather, and a fuel surcharge lag.
Overall volume was up 1% for the quarter, led by 10% growth in intermodal traffic as imports surged at East Coast ports and retailers restocked depleted inventory.
But merchandise traffic sank 6%, largely due to a 16% decline in automotive traffic and an 8% decline in chemicals traffic. Auto production has faced challenges this year due to a global shortage of computer chips used in vehicles, and CSX's chemical traffic was affected by declines in crude oil and frac sand shipments.
CSX's coal traffic sank 5% in the quarter due to lower exports.
The railroad's key operating metrics deteriorated, which the railroad attributed to the pandemic's impact on crew availability and winter weather. Train velocity sank 11% and terminal dwell rose 30%. "We are focused on driving velocity and dwell back to pre-pandemic records, and we expect to see improvement in both metrics throughout the year," Foote says.
On-time performance, based on trip-plan compliance, fell for both intermodal and carload traffic. Some 85% of intermodal shipments arrived on time, down from 96% a year ago. Merchandise carloads met their trip plans 67% of the time, down from 81% a year ago. CSX expects on-time performance to improve as the pandemic wanes.
"We are committed to providing our customers with an industry-leading service product and are proactively adding headcount and prepositioning locomotives across the network to ensure we are prepared to provide high-quality service, while handling incremental volumes," Foote says.
Intermodal on-time performance currently is above 90%, Foote says.
CSX operated 101 trains per day with distributed power, a new record that helps improve fuel efficiency and safety. The railroad continued to move its tonnage on fewer but longer trains, with train length up 13% to a first quarter record and total employment down 7% due to reduced need for train crews.