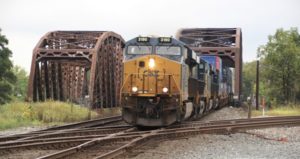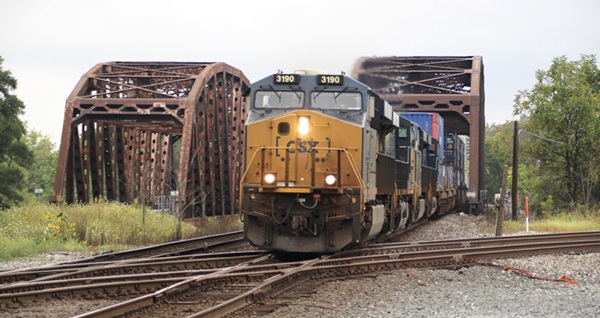 JACKSONVILLE, Fla. — CSX Transportation's third-quarter earnings sagged under the weight of pandemic-related traffic and revenue declines.
The railroad's operating income fell 11%, to $1.1 billion, as revenue declined 11%, to $2.6 billion. Earnings per share slumped 11%, to 96 cents. The railroad's operating ratio was 56.9%, a 0.1-point increase compared to the quarterly record set a year ago.
"The last six months have truly been surreal," CEO Jim Foote told investors and analysts on the company's earnings call on Wednesday afternoon. "On last quarter's call we discussed the largest and most rapid sequential volume declines in CSX's history. Now, just three months later, record sequential increases. Think about that: Volume declines and increases twice as steep as the largest swings we experienced in the Great Recession in the span of just a few months."
Managing the volatile traffic was a feat while maintaining what Foote called the railroad's high service levels. On-time performance deteriorated in the quarter, however, compared to the second quarter as well as last year's third quarter.
But Foote says that just a few years ago large volume swings would have tied railroads in knots.
"If you'd had this kind of traffic surge across the rail network in North America four or five years ago, we would be now talking about gridlock across all the major cities in the country. And we wouldn't be doing anything," Foote says. "And now with the common mindset of how you run a railroad, we're able to respond, we're able to pivot, we're nimble, we can add capacity, we can shrink capacity, we can right-size our business and we can do that much more effectively and much more logically and thoughtfully."
CSX's volume was down 3% for the quarter, with intermodal growth of 7% more than offset by a 5% decline in merchandise traffic and a 27% drop in coal.
But volume has increased 3% when measured from March 1, before the onset of the pandemic, to the end of the third quarter. CSX is doing more with much less: It's handling that traffic in longer but fewer trains, using 6% fewer crews, an active locomotive fleet that's 8% smaller, and train starts have been reduced by 11%.
Average train velocity and terminal dwell both increased compared to a year ago, while on-time performance declined. Although it had rebounded by the end of September, CSX's trip plan compliance was 73% for merchandise, down from 80.5% in the second quarter, and stood at 87.4% for intermodal, down from 94% earlier this year.
CSX set another company record for fuel efficiency in the third quarter and ran more trains with distributed power. Use of distributed power, which set a record for the quarter, averaged 100 trains per day as September wound down.
With the CSX sitting on $2.9 billion in cash, the railroad's board approved an additional $5 billion share buyback program, making the total share repurchase program worth $6 billion as it aims to return cash to investors.