Evening rail news in brief for a very busy Monday: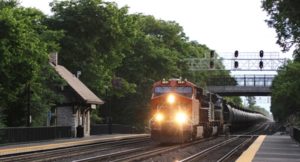 Court orders North Dakota pipeline to shut down; crude-by-rail could benefit
Crude-by-rail business could see a surge in business following a court ruling that will shut down the largest pipeline serving North Dakota crude production. The New York Times reports the Dakota Access Pipeline must be emptied of oil by Aug. 5 after a ruling by Judge James E. Boasberg of the U.S. District Court for the District of Columbia. Responding to a suit by Native American and environmental group, the ruling overturns a permit that had allowed the pipeline to operate while environmental reviews were conducted. Energy Transfer, owner of the pipeline, said it would appeal. Reuters reports the pipeline, from the Bakken shale basin to Patoka, Ill., about 75 miles east of St. Louis, moves 557,000 barrels per day. At full capacity, the line carries the equivalent of seven to eight unit oil trains per day; other pipelines are capable of picking up two to three trains' worth of crude. Some 36% of the North American tank car fleet is currently in storage — slightly higher than the 32% in storage for the overall freight car fleet — so the equipment is available to handle the additional business, but some analysts expressed concern about the available manpower to run more trains in light of recent furloughs.
Proposed Colorado industrial park could generate new UP traffic
A 600-acre industrial park in Adams County, Colo., east of Denver and served by Union Pacific, could serve as an inland port and generate hundreds of jobs, according to a proposal by Rocky Mountain Industrials. The Denver Post reports the site next to the Colorado Air and Space Port, about a mile north of Interstate 70 and adjacent to UP's tracks, could be used to distribute materials like sand and gravel provided by Rocky Mountain Industrials, which operates and finances natural-resource assets. Rocky Mountain Industrials CEO Greg Dangler told the Post, "Think about it as an industrial subdivision. … We'll use it to distribute high-value materials via train."
BNSF derailment stops 'Southwest Chief' in Arizona
Twenty-nine cars of a BNSF train derailed east of Winslow, Ariz., Monday morning, blocking the railroad's busy Southern transcon and stopping Amtrak's Southwest Chief. KAFF Radio reports there were no injuries and no hazardous materials were involved. As of 3 p.m. PST, the eastbound Chief was still in Winslow, where it had arrived at 5:38 a.m. The train eventually resumed its trip after a stop of more than 11 hours.
— Updated at 8 a.m. on July 7 more details on North Dakota pipeline court case, additional information on Southwest Chief delay.