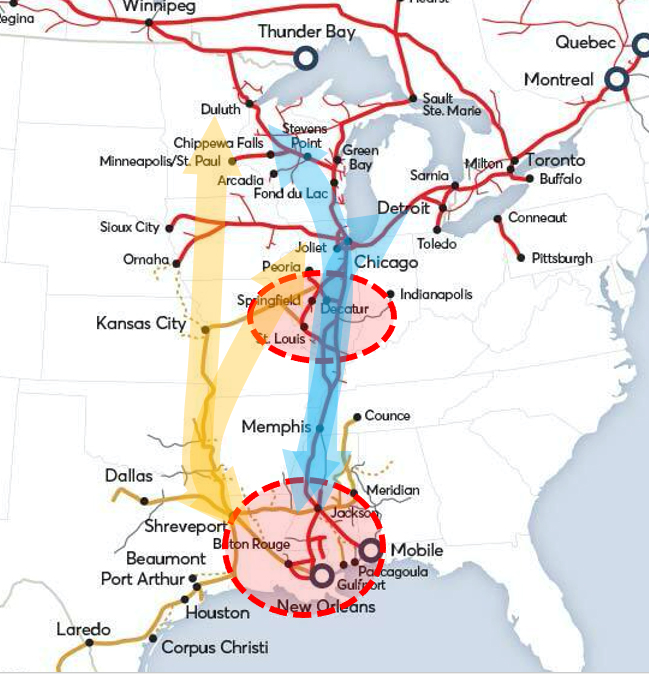 CALGARY, Alberta — A combined Canadian National and Kansas City Southern system would reduce railroad competition across wide swath of its expanded service territory, which would pose a regulatory challenge to a potential merger, Canadian Pacific CEO Keith Creel says.
"The competition between KCS and CN is not limited to a 'handful' of shippers as CN suggests. KCS and CN serve the same shippers, the same cities, the same corridors, and the same regions across much of KCS's U.S. network," Creel wrote in a letter sent Friday to KCS CEO Pat Ottensmeyer.
The KCS board is considering CN's $33.7 billion unsolicited offer, which was announced last week, about a month after CP and KCS unveiled their friendly $29 billion deal to combine into the first railroad that would link Canada, the U.S., and Mexico.
U.S. federal regulators have said they will review the CP-KCS deal under the less stringent pre-2001 merger rules, which analysts have said makes the merger of the two smallest Class I railroads almost certain to win regulatory approval.
A CN-KCS combination would be reviewed under the Surface Transportation Board's current merger rules, which are untested and require that a merger of Class I railroads enhance competition. But CN contends that its proposed acquisition of KCS has minimal overlap and would clear regulatory hurdles.
Creel, whose CP would become the smallest Class I if CN and KCS combined into the third-largest system in North America, disagrees.
"CN may think it can persuade the STB to allow the CN transaction to eliminate KCS as an independent competitor in North South (and East-West) routes, and across the broadly overlapping South Central region, based on discrete remedies for a handful of '2-to-1' shippers," Creel wrote, referring to customers who would see their service options shrink from two railroads to one. "But we think that assessment is extraordinarily out of touch with the Board's 2001 rules and today's regulatory landscape. The fact that the CN and KCS systems parallel one another south of Springfield and Kansas City (as shown in more focus in the map below) foreshadows regulatory disapproval, extensive and complex competition-enhancing conditions, or the dismemberment of KCS as CN ultimately rationalizes these parallel lines and terminals."
A combined CN-KCS system would dominate Mississippi, Creel said, accounting for more than half of rail revenue in the state. And he said a CN-KCS combination would reduce railroad competition at the ports of New Orleans and Mobile, noting that both railroads currently serve the Gulf Coast ports.
"Your counsel will be able to confirm that analysis of available data shows that combining KCS with CN will reduce shippers' competitive options across an extensive number of origin-destination pairs," Creel wrote. "That is not just because KCS and CN serve shippers in common, but because your networks connect the South Central States with the U.S. Midwest, Canada, and other regions, providing competitive routing options that will be extinguished by the CN/KCS proposal."
Creel told Ottensmeyer he understands that the KCS board must consider the CN proposal.
"But I submit that when you consider the regulatory issues CN's proposal raises – and our agreement does not – you will see that CN's proposal is an illusory one that should not distract KCS from the once-in-a lifetime partnership that our mutually agreed transaction represents," Creel wrote.