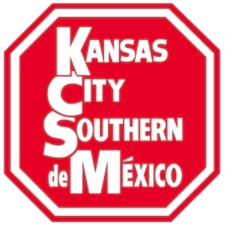 KANSAS CITY, Mo. — The coronavirus pandemic has hit Kansas City Southern de Mexico particularly hard, with up to 15% of the railroad's train crews out on leave due to COVID-19.
On a typical day, about 5% of train crews systemwide mark off due to coronavirus on both sides of the border, KCS executives said Friday morning on the railroad's fourth-quarter earnings call. Overall, 650 KCS employees have been infected.
Sameh Fahmy, executive vice president of precision scheduled railroading, thanked the railroad's operations team for its hard work and resilience in the face of adversity. "We are running trains and servicing customers in the middle of the worst pandemic that humanity has seen in the last hundred years," Fahmy says.
A combination of the pandemic-related crew shortages, a new rule in Mexico that temporarily limited crews' hours of service, and an 18% surge in cross-border traffic in the fourth quarter all contributed to congestion in key KCS de Mexico hubs of Monterrey and San Luis Potosi. That, in turn, forced KCS to hold back cross-border traffic at the Laredo gateway.
For the fourth quarter, KCS train speed declined 9% and terminal dwell increased 26%. Trip-plan compliance sank on both sides of the border, but is now up to 70% in the U.S. and back above 50% in Mexico.
Chief Operating Officer Jeff Songer praised union officials in Mexico for cooperating on changes to operating rules and crew consist agreements that have allowed the railroad to recover from congestion and keep freight flowing. Among the changes: Labor leaders have agreed to waive a requirement that adds a brakeman to a train that has more than 120 cars.
The number of cars online in Monterrey, as high as 3,200 last month, is now down to a more normal 1,800, Fahmy says. Similar improvements occurred at Sanchez Yard in Nuevo Laredo, Mexico.
CSX Transportation on Thursday said its service deteriorated after Thanksgiving as pandemic infections and quarantines affected train, engine, and yard crews across its system. At the hardest-hit terminals, up to 40% of crews were unable to come to work.
Union Pacific officials, speaking during the railroad's earnings call on Thursday, did not say that the pandemic had caused crew shortages.