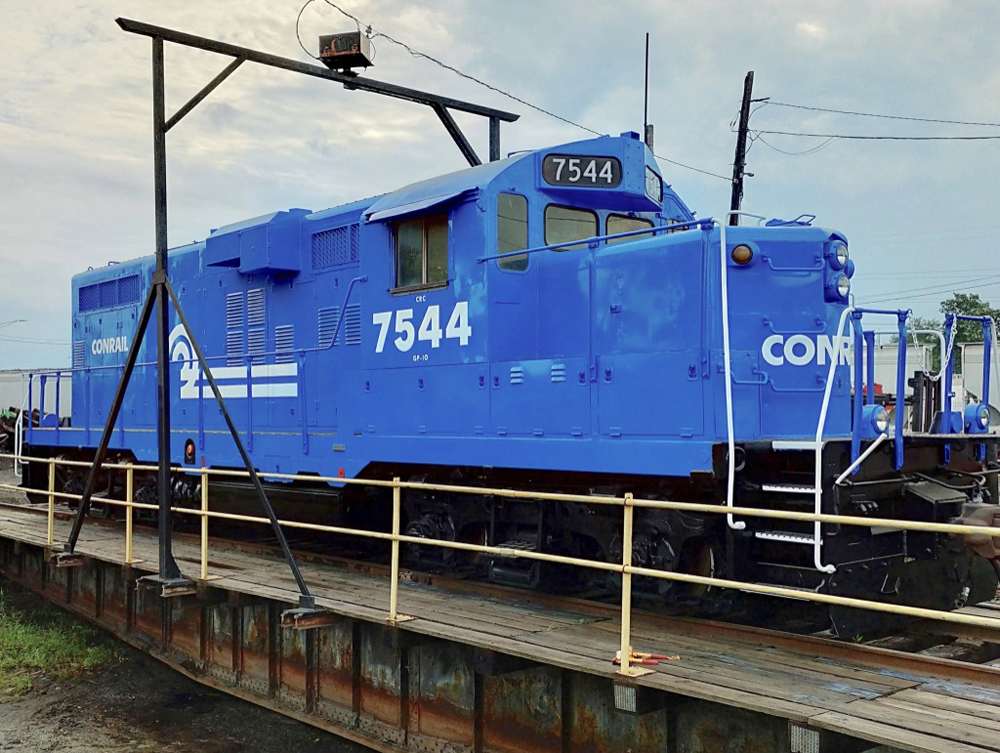 LEBANON, Ohio— An Electro-Motive Division GP10 road-switcher painted in blue with authentic Conrail markings will be pulling tourist trains for the Cincinnati Scenic Railway, beginning in August.
The unit was built as Illinois Central GP9 No. 9037 in June 1954 and later rebuilt to a GP10 in a capital overhaul program at IC/Illinois Central Gulf's Paducah, Ky., shops, emerging in 1974 as ICG No. 8008. It was sold to Paducah & Louisville and was renumbered 8349 before going to the Tennessee Central Railway Museum in Nashville, Tenn. Cincinnati Scenic Railway then acquired the unit from the museum, according to Ray Kammer Jr., president of the Cincinnati Scenic.
Mechanical work was performed by Silcott Railway Equipment of Worthington, Ohio, and encompassed a new main generator, new injectors, traction motor work, and minor running repairs. The paint job was applied by the Midwest Railway Preservation Society in its Cleveland facility, a former Baltimore & Ohio roundhouse.
CSR's chief mechanical officer, Scott Jarrett, and the Conrail Historical Society worked to recreate the image of a Conrail GP10. It has been painted as Conrail 7544, a number never used on the Conrail GP10 roster.
"Even though the locomotive itself is not historic to the Cincinnati area, the paint scheme was chosen because it represents a scene that was common in the region during the 1980s," Kammer says.
While Conrail operated both short-hood and high-hood GP10s, the low-nose 7544 differs from Conrail's low-hood units with its nose-mounted headlight, which was not a feature of the Conrail units.
Conrail owned 75 GP10s, upgraded from stock Pennsylvania and New York Central GP9s by three facilities: 52 by Illinois Central Gulf's Paducah shops between 1976 and 1979 (CR 7545-7597); six by Precision National Corp., at Mount Vernon, Ill., in 1978 (CR 7530-31, 7533-7535, and 7537); and 17 by Morrison-Knudsen at Boise, Idaho, in 1978-79 (CR 7513-7529).
Conrail retired its fleet of GP10s between 1995 and 1997. Many can be found today working on short lines, regionals, and industrial railroads.
Until now, the two most prominent Conrail-painted locomotives have been EMD GP30 No. 2233 at the Railroad Museum of Pennsylvania in Strasburg, Pa. (former PRR/Penn Central/Conrail GP30 of the same road number), and Norfolk Southern's General Electric ES44AC unit No. 8098, one of NS's heritage fleet of locomotives painted for predecessor lines.
Cincinnati Scenic Railway, a non-profit 501(c)3 organization, operates 12-mile round-trip tourist trains over the Lebanon Mason Monroe Railroad in southwest Ohio. CSR also runs the Ohio Rail Experience, which offers day-long excursions over various routes in Ohio, Indiana, and Michigan in spring and fall, using trackage rights on the Indiana & Ohio Railroad.
The railroad has three other EMD products awaiting repainting or rebuilding, all GP30s: Nickel Plate Road Nos. 901 and 902, and Baltimore & Ohio/Chessie System No. 6955.