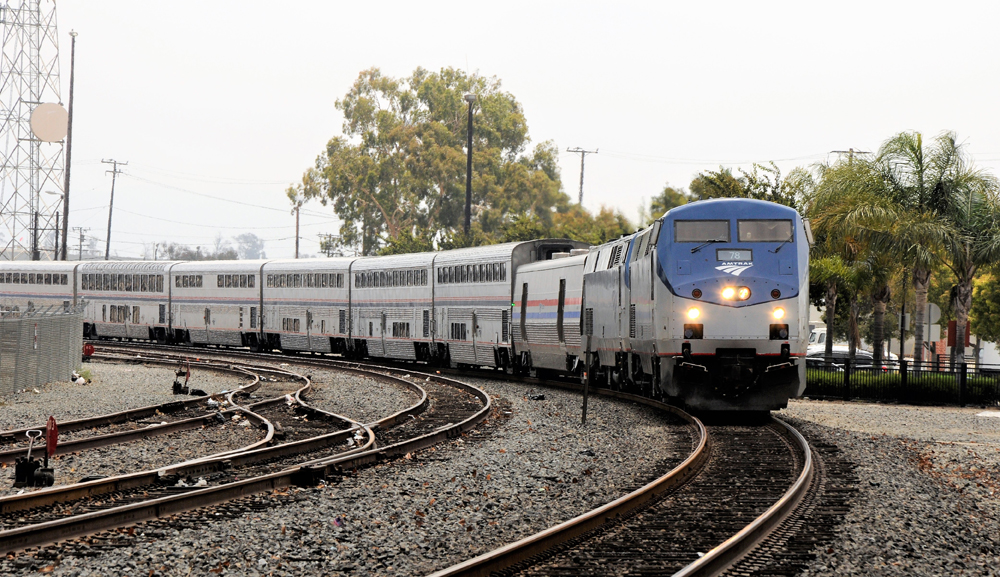 OAKLAND, Calif. — Amtrak will resume operation of the Coast Starlight over its full Seattle-Los Angeles route, beginning with departures from both endpoints on Monday, Aug. 23, following completion of bridge work between Santa Barbara and San Luis Obispo, Calif. However, the train's sleeping-car inventory currently remains limited for more than a month after its return.
By Aug. 23, Union Pacific is scheduled to have replaced a bridge dating to 1896 that crosses San Antonio Creek at Narlon, Calif., approximately 30 miles south of San Luis Obispo.
Through service has been disrupted since a fire destroyed the Dry Canyon Bridge north of Redding, Calif., on June 28. It resumed on July 15 utilizing overnight buses in each direction between Sacramento, Calif., and Klamath Falls, Ore. Work replacing the bridge at Dry Canyon was expected to last until Sept. 1, but was completed on Aug. 1 [see "Union Pacific reopens Dry Canyon Bridge," Trains News Wire, Aug 2].
Throughout July, a passenger advisory on Amtrak's website made no mention of the planned outage at Narlon, but the booking system showed Coast Starlights cancelled Aug. 8-22. Once the Dry Canyon Bridge was opened, the train was reinstated between Seattle and Klamath Falls; although the track was open as far south as San Luis Obispo, the cancellation south of Klamath Falls remained in place and will continue through Aug. 22.
On dates when the train has operated, Amtrak's system showed sleeping-car space as "sold out" through Sept. 8; it only became available one or two days before each train's departure [See "Starlight saga: sales stopped …," Trains News Wire, July 19].
Amtrak spokeswoman Olivia Irvin tells Trains News Wire, "We will be re-opening sales in coach and business class but are temporarily inhibiting private room sales while customers are re-accommodated."
As of Friday, Sept. 13, here is the available sleeping-car inventory:
Aug. 23-26: Roomettes, bedrooms and family rooms are all available. Fares are at the lowest "buckets" for all accommodations. This is understandable, since no sales (other than rebooking) have been allowed since late June.
Aug. 27-Sept. 8: Sleeping car space is "sold out" on certain dates for the overnight portion but available south of Sacramento on those dates
Sept. 9-30: Family bedrooms are the only accommodation shown for travelers departing from Seattle, but roomettes appear on the same southbound train the next day starting at Sacramento.
As the rebooking process is completed, more overnight inventory should become available.
— Updated on Aug. 14 to correct age of Narlon bridge, completion date for bridge work, date for end of cancellation south of Klamath Falls.