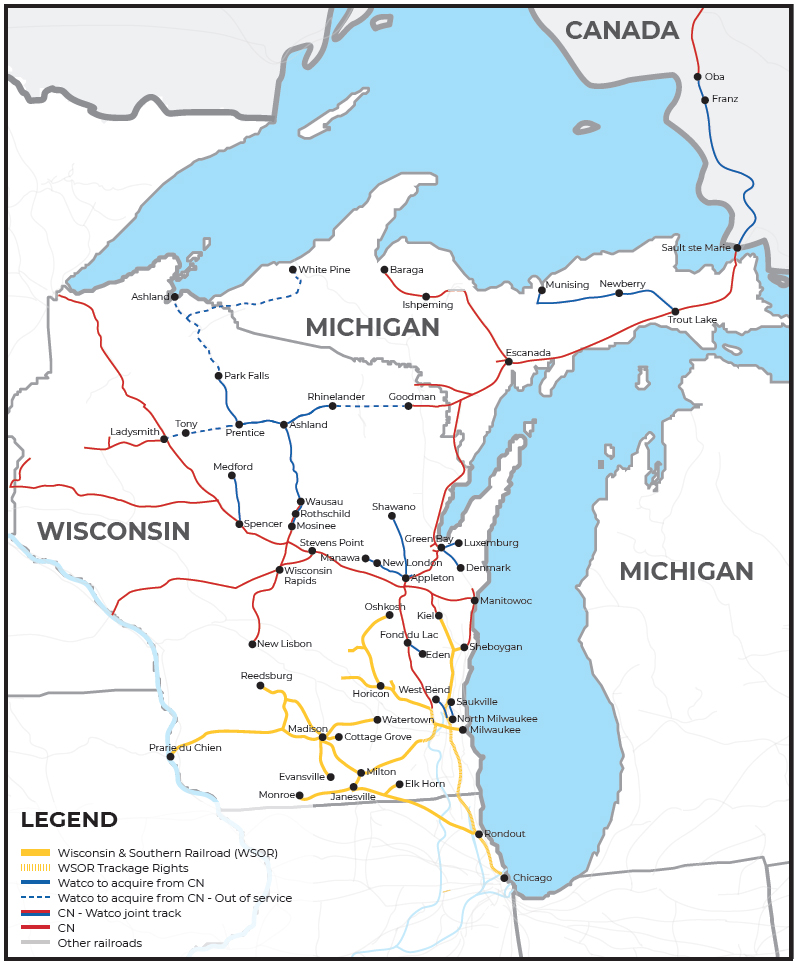 WASHINGTON — In a move that has stunned rail observers, a pair of local shipper groups is challenging Canadian National's proposed sale of former Wisconsin Central branches to short line operator Watco.
This month CN and Watco sought to have their deal considered exempt from review by the Surface Transportation Board, which is the typical practice for Class I lines that are spun off to short line operators.
But the Wisconsin Central Group and the Lake States Shippers Association on Monday asked federal regulators to consider the sale of 650 miles of trackage in Wisconsin and the Upper Peninsula of Michigan a "significant" transaction that would require board review.
While claiming that they were taking no position on the merits of the CN-Watco deal, the shipper groups questioned whether conditions attached to CN's 2001 acquisition of Wisconsin Central would be applied to Watco. And they were critical of CN and Watco for not involving shippers in the sale negotiations.
"The proposed transaction is 'significant' for the broad Great Lakes Forests Region and its communities and, in the present context is significant for the nation's general system of railroad transportation as a whole. It is not a private matter to be resolved between and among private railroads behind closed doors," John Duncan Varda, the lawyer for Wisconsin Central Group and Lake States Shippers Association, wrote to the STB in a lengthy filing this week.
In addition, several parties — including U.S. Rep. Tom Tiffany (R-Wis.); Timber Professionals Cooperative; the Northwoods Rail Transit Commission; and the Western Upper Peninsula Planning & Development Region Commission — each submitted virtually identical letters asking the STB to review the CN-Watco deal.
Tiffany's letter to the STB comes little more than a week after he supported the line sales in a news release. "This is a great opportunity, but the devil is in details," Tiffany said in a March 30 statement.
Rail officials and industry observers were baffled by the opposition.
"I'm surprised that this is the least bit contentious. Sales of short line properties are always negotiated in private," says William Schauer, a rail consultant and former Wisconsin Central official.
Schauer, who has filed a letter of support for the deal with the STB, argues that CN spinning off the light-density lines to Watco will be good for customers. "The service and attention they will get from Watco will be better than what they get from CN," he says.
The Wisconsin Department of Transportation agreed. "WisDOT has been concerned about rates and reliability of service for shippers on the affected lines and is supportive because of our understanding that this transaction will address these issues," Craig Thompson, the state's transportation secretary designee, wrote to the STB in a letter backing the line sales.
Independent analyst Anthony B. Hatch suspects that opposition is related to the lingering legacy of E. Hunter Harrison, who was chief operating officer at CN when it acquired Wisconsin Central in 2001.
Hatch recalls participating in a shipper panel in Wisconsin five years ago. CN customers said the railroad provided consistent service but they were still mad at the railroad due to rapid operational changes Harrison made. "It was the way it was done rather than what was done," Hatch says.
Wisconsin remains a hotbed of anti-railroad sentiment, Hatch says, which has colored the perception of the Watco-CN deal.
"This is the ultimate positive solution," Hatch says. "Short lines hustle for local business. You'd think this would be a very positive thing. For those who want more service up there, having a short line work hard for two loads a week is a good thing. Watco has a good reputation with customers."
Watco hopes to begin operating the former WC lines on June 30.