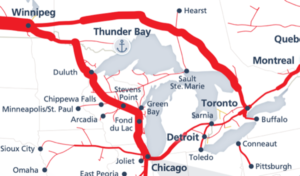 MONTREAL — Canadian National plans to spin off 850 miles of low-density routes in Wisconsin, Michigan, and Ontario, the railway said today while announcing its quarterly financial results.
Railroad officials did not specify which lines will be marketed for sale to short line operators. But executives say the bulk of the routes on the block are former Wisconsin Central routes in the Badger State and the Upper Peninsula of Michigan.
A railroad spokesman did not immediately respond to an email requesting additional details on the line sales.
"When we looked at our U.S. network, we decided some part of the network is better in the hands of others," CEO JJ Ruest told investors and analysts on the railway's earnings call on Tuesday afternoon.
CN has hired an investment banking firm to assist with the sale process and expects to close on the line sales within six to 12 months. CN recorded a $486 million loss in the quarter "to adjust the carrying amount of these track and roadway assets to their estimated selling price."
A key to the sales will be finding solid shortline operators. "We need to have the best operator to come in because they will continue to manage these non-core lines, and that business will continue to come to us on our main lines," Chief Financial Officer Ghislain Houle says.
"They will be better suited to run these lines than we are," Houle says.
CN rationalized its Canadian network years ago, Houle notes. "We've never really done it in the U.S.," he says. "And these non-core lines came when we bought the WC."
The sales are part of the railway's Precision Scheduled Railroading operating model. "Part of PSR is you rationalize some of your network and you have better operators in terms of their cost structure … operate some of the non-core lines," Houle says.
Ruest noted that unlike CN, short lines can often tap government grant or loan programs to fund line maintenance programs. "It's a better model for those non-core lines that we are selling," Ruest says.
The line sales are a turnabout for CN, which has been acquiring feeder lines in Canada and has a tentative deal to purchase CSX Transportation's line from Syracuse, N.Y., to the Montreal area. That deal, however, may hinge on U.S. federal regulators reconsidering a stipulation regarding the potential for CN to interchange with short lines in the Syracuse area.
CN acquired regional railroad Wisconsin Central in 2001 to create a link between its Western Canada main lines and the Chicago area. A person familiar with the line sales tells Trains News Wire that trackage on the block includes branches east of the CN main line in Wisconsin as well as trackage on Michigan's Upper Peninsula.