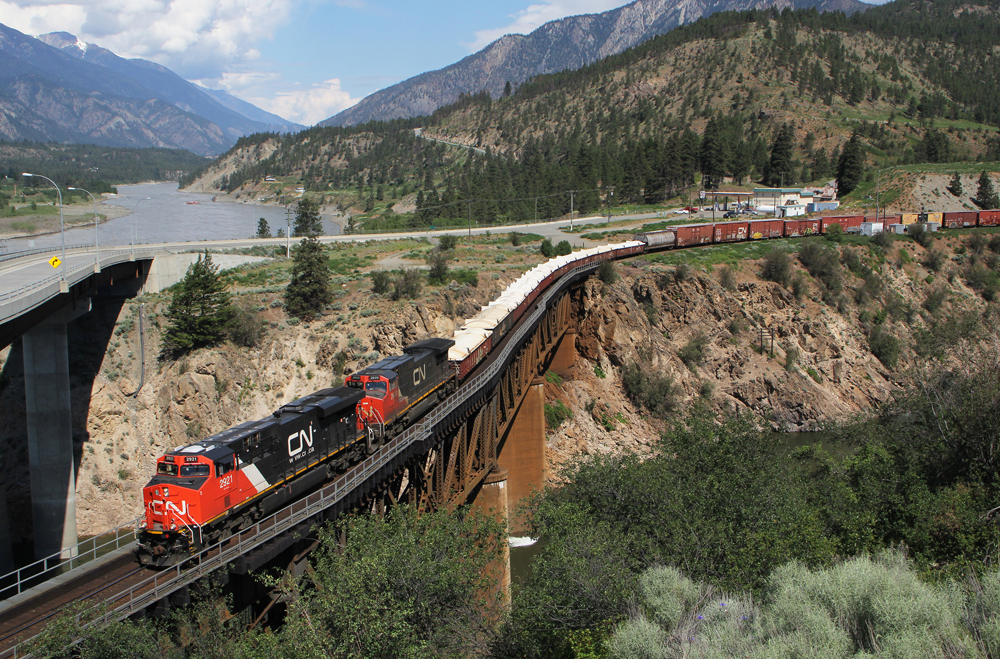 A westbound Canadian National train crosses the Thompson River on the CN main at Lytton, British Columbia, in May 2015. CN will continue to add capacity west of Edmonton, Alberta, to support traffic growth. Alex Mayes
---
CHICAGO — During an investor day presentation today, Canadian National touted its operational improvements over the past year and said its faster, more fluid network has created capacity that its marketing team can sell to propel profitable volume growth.
"CN isn't just back. I think we're better," CEO Tracy Robinson says.
CN moved away from a long train strategy last year after Robinson became CEO. The new operating plan, implemented beginning in April 2022, focuses on running to schedule, which has improved terminal dwell, average train speed, and the percentage of cars that make their connections. The result: Customer service has improved dramatically and car velocity is up 30%, Robinson says.
"We will drive volume growth that exceeds the pace of the economic growth on the continent into the future," Robinson says. "The railroad's humming, it's working well, we're excited about the growth ahead."
Executives outlined carload growth projects across CN's Canadian network, including bulk commodities such as grain, potash, and coal; renewable energy projects; natural gas liquids; fuel distribution in Ontario; new supply chains built around electric vehicles; and natural resource growth in northern British Columbia.
CN's also expecting strong international intermodal growth from Vancouver and Prince Rupert, British Columbia; Halifax and Saint John in Atlantic Canada; and Mobile, Ala., and New Orleans on the U.S. Gulf Coast, plus domestic cross-border growth in traffic between Mexico and Canada through its new joint service with Union Pacific and Ferromex.
CN projected carload growth of up to 375,000 loads by 2026 and intermodal growth of up to 520,000 containers. "It's a big number: 800,000 to 900,000 carloads or units per year of growth by 2026 annually," Chief Marketing Officer Doug MacDonald says.
To support growth initiatives, CN will increase its capital spending from $3.5 billion this year to $4 billion by 2026, partly to fund capacity projects in Western Canada, particularly west of Edmonton, Alberta. Last year CN spent $2.7 billion on capital projects.
"This growth is going to give us the opportunity to invest in our network to expand our capacity to build new services … and the key to all of it is to do it productively," Robinson says.
CN executives sought to assure investors and analysts that it won't get caught short of capacity like it did in 2017 and that the increased capital spending would be linked to specific customer contracts that include volume commitments.
CN coagulated in the summer of 2017 and into 2018 after the railway took on more grain, crude oil, frac sand, and intermodal traffic than it could handle. CN's western network was overwhelmed for two years while the railway rushed to complete capacity expansion projects.
Now CN is taking a disciplined approach to growth and capacity.
Before CN will bring in new traffic, the marketing, operations, and finance teams make sure they know what capacity improvements might be required, what they'll cost, as well as the financial returns of the new business and when it's expected to materialize. "Nothing gets on this railroad if it doesn't go through this process," Robinson says.
CN sells into the capacity it has available, either on a train-by-train basis or on a corridor basis. "We don't put the business on the property until the capacity is available," Robinson says.
CN aims to bring the growth to its bottom line: The railway expects to increase earnings per share by 10% to 15% from 2024 to 2026, up from single-digit growth this year. It's also shooting for a 15% to 7% return on invested capital over that period.
CN's financial outlook did not include revenue figures. And there was no mention of the operating ratio, the efficiency metric that's closely watched by investors and analysts.
An analyst asked Chief Operating Officer Ed Harris if there was an opportunity for operating-ratio improvement. "I don't think about operating ratio at all … If we continue to do everything right, that number will take care of itself," Harris says.