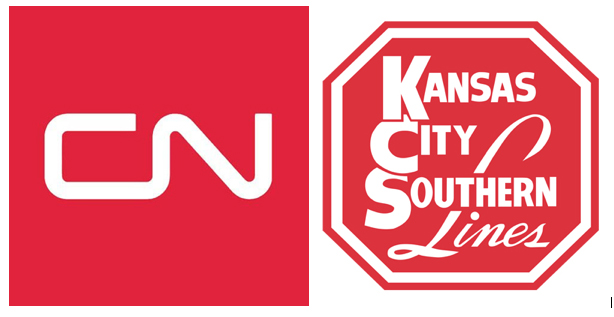 MONTREAL — Canadian National could finalize a merger deal with Kansas City Southern in the next 30 to 40 days, executives said today.
With the KCS board agreeing over the weekend to consider CN's unsolicited $33.7 billion merger offer, CN tomorrow will begin poring over confidential KCS data and negotiating a final merger agreement.
Rival Canadian Pacific last month announced a friendly $29 billion deal to acquire KCS to create the first railroad linking Canada, the U.S., and Mexico. CP has claimed that a CN-KCS merger would be anti-competitive and unable to receive regulatory approval due to broad overlap between the CN and KCS systems in the American Heartland.
But CN CEO JJ Ruest insists that his railway's bid — which would offer KCS shareholders 21% more than CP's deal — is the better solution for the railroads, shippers, and investors. "This is the right next step for both CN and KCS toward becoming the premier railway of the 21st century," Ruest told investors and analysts on the railway's first quarter earnings call.
CN brushed aside CP's suggestions that a combined CN-KCS system would reduce railroad competition anywhere beyond the 65-mile stretch of the parallel CN and KCS lines in Louisiana, where shippers would see their choice of railroads go from two to one.
"The overlap … is really between Baton Rouge and New Orleans, where we do have a few customers that their options will go from two to one. We knew that going in and we said that. And again that represents less than 1% of the combined railroads' networks," Chief Operating Officer Rob Reilly says. "So we will remedy it. There are a number of things you can do with that, including divestiture of the line."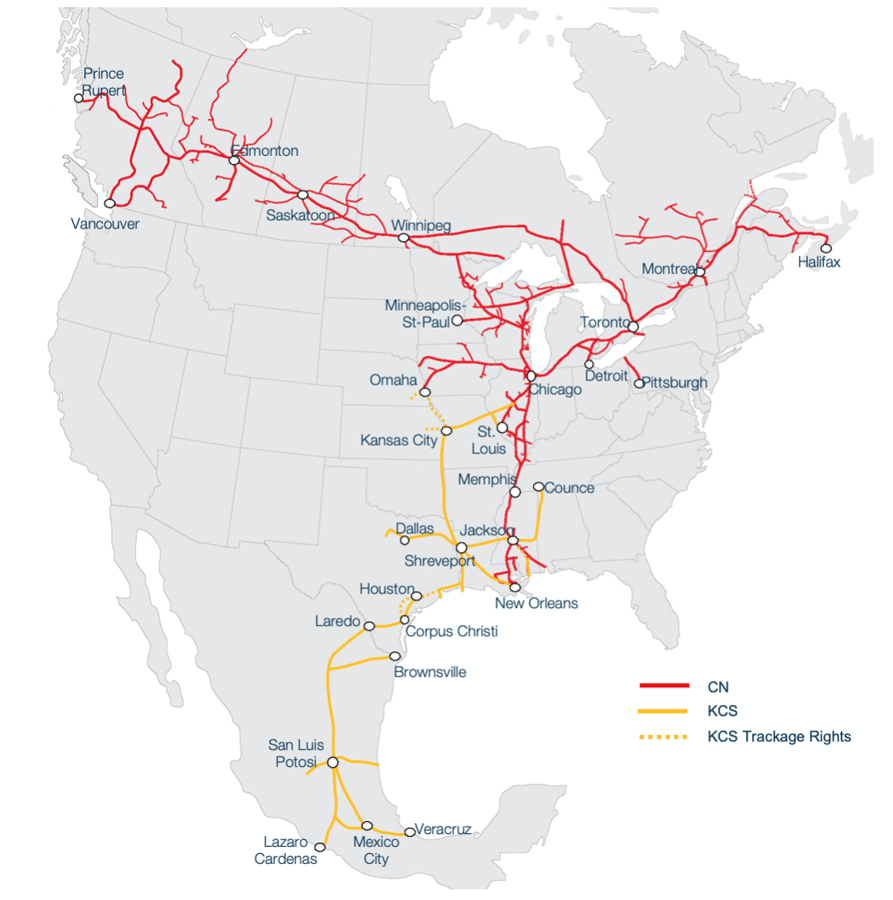 A CN-KCS combination would not create so-called 2:1 customers in Jackson, Miss.; Mobile, Ala.; Springfield and East St. Louis, Ill; or Council Bluffs, Iowa, Reilly says. "In fact the Port of Mobile, Alabama, has sent in their support for our proposed merger," Reilly says. "So they get it."
The port was among 500 letters of support CN has rounded up from shippers and other stakeholders since announcing its bid for KCS on Tuesday.
The support, Chief Legal Officer Sean Finn says, is evidence that a CN-KCS merger is pro-competitive and can win regulatory approval under the more stringent U.S. merger rules that date to 2001.
CN today asked the U.S. Surface Transportation Board to approve its request to put KCS into an independent voting trust, just like CP plans to do. CN and CP have both selected the same trustee to ensure KCS independence while a merger is under review — former KCS CEO David Starling — and CN hopes the STB will rule on its voting trust by May 31.
CP has claimed that a CN-KCS combination would not pass a public interest test required for a railroad to be put into a voting trust. But Finn says that's not the case. The standard, he says, focuses on the risk of financial harm to either railroad if they were forced to unwind their trust. Both railroads would still be viable if the STB ultimately rejected a merger, Finn says.
CP has said that CN could effectively shut off its friendly connection with KCS at Kansas City, the only place where their networks touch.
Ruest insists that CN will keep open all KCS gateways with other railroads. "We make good money interchanging traffic with other railroads, so there's definitely no incentive — financial or otherwise — not to try to grow the interchange business with other railroads, including with the CP at Kansas City," he says.
Ruest was asked what the competitive impact would be on CN if CP acquired KCS and whether CN would seek another merger partner if it was denied KCS. Ruest said the so-called merger end game is a question for another day.
CN as a stand-alone railway with its existing network — and the only one to touch the Pacific, Atlantic, and Gulf coasts — has huge potential. "We have a bright future no matter what," Ruest says.
"We are fully committed to this transaction and we are very confident in our ability to achieve all necessary regulatory approvals, to close into a voting trust, and ultimately receive approval to combine with KCS," Ruest says.