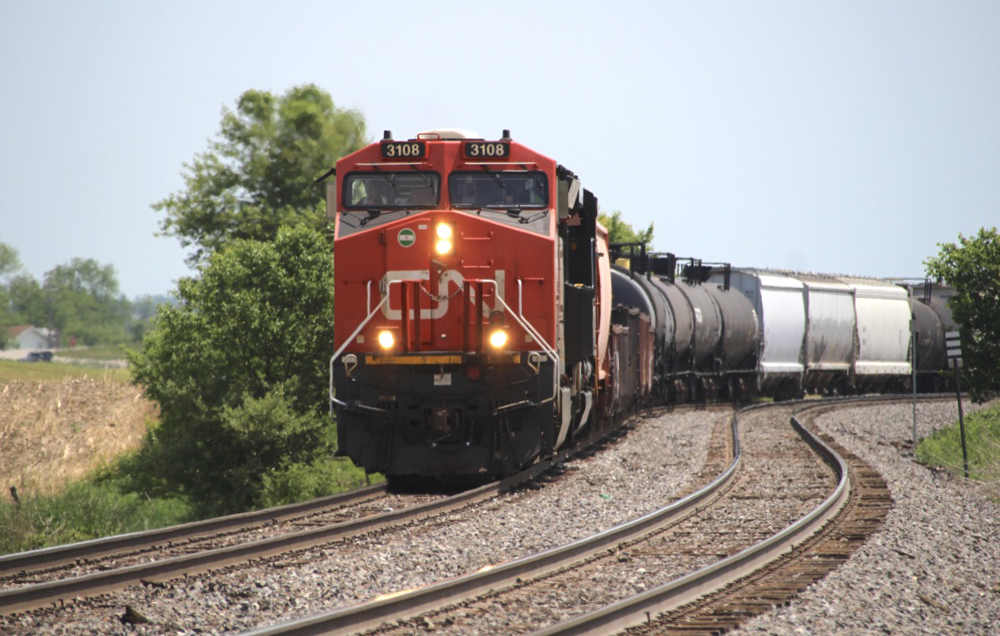 MONTREAL — Canadian National's second-quarter earnings bounced back from the pandemic amid growth in virtually every traffic segment, the railway said on Tuesday.
"Our results reflect broad-based trends and forward momentum across all of our business, and also the enduring power of our vast and diversified CN network," CEO JJ Ruest told investors and analysts on the railway's earnings call.
CN's operating income surged 76%, to $1.38 billion, as revenue grew 12%, to $3.6 billion. Adjusted for the impact of one-time items, earnings per share increased 16%, to $1.46. CN's operating ratio was 61.6%, down from 75.5% a year ago but up 1.2 points when last year's second quarter is adjusted for the impact of one-time items.
Overall volume was up 14% on a carload basis, or 13% when measured by revenue ton-miles, the preferred metric of the Canadian railways. Almost every commodity was up, with strong growth in industrial products, intermodal, and propane traffic.
CN executives said congestion at U.S. West Coast ports resulted in some container volume being diverted to the CN-served ports of Vancouver and Prince Rupert, British Columbia. CN set a second-quarter record for international intermodal volume through the ports, says Keith Reardon, senior vice president of consumer product supply chain.
The railway's terminal dwell and car miles per day improved, while average train speed was down 2%, to 19.5 mph. CN set another quarterly record for fuel efficiency, as well as an all-time low employee personal injury rate. The train accident rate also declined.
Canadian National maintained its outlook for the year, which includes high single-digit volume growth and double-digit growth in earnings per share.
Fire Damage in British Columbia
It will take CN a couple of weeks to dig out from the backlog of traffic that built up while its main line to Vancouver was out of service for two weeks due to fire damage in British Columbia, Chief Operating Officer Rob Reilly says.
CN's bridge over the Thompson River in Lytton, B.C., was damaged in the wildfire that leveled the town and killed two people. [see "CN main line in British Columbia to reopen …," Trains News Wire, July 13, 2021]. Some 300 fires continue to burn in the province, which may affect operations in the coming weeks.
It's too early to tell, however, what the impact will be of a ministerial order that placed speed restrictions on trains operating in extreme heat and dry conditions, Reilly says.
"With those fires we did lose a critical bridge on our route to Vancouver. Through the great work of our engineering team we were able to restore service last week after a two-week outage," Reilly says. "We will be a few weeks more before we are fully recovered from the backlog of traffic."
Executives Defend KCS Merger
Canadian National executives on the earnings call touted the railway's proposed acquisition of Kansas City Southern.
The $33.6 billion deal faces a key regulatory hurdle at the U.S. Surface Transportation Board, which is currently weighing whether CN's request to put KCS into an independent voting trust is in the public interest.
The CN-KCS combination also has come under increased scrutiny after the Biden administration's July 9 executive order that seeks to boost competition in a range of industries, including railroads. STB Chairman Martin J. Oberman says the independent agency supports the White House's executive order, which also encouraged regulators to consider a freight rail merger's impact on Amtrak and commuter railroads [see "STB chairman questions level of rail competition …," News Wire, July 13, 2021].
Ruest says the CN-KCS combination is in the public interest because it will enhance competition by creating new single-line service linking Mexico and Texas with Chicago, the Upper Midwest, and Southern Ontario. He also emphasized that CN has pledged to keep existing KCS gateways open and will divest KCS's line between New Orleans and Baton Rouge, La., the only place where their systems overlap.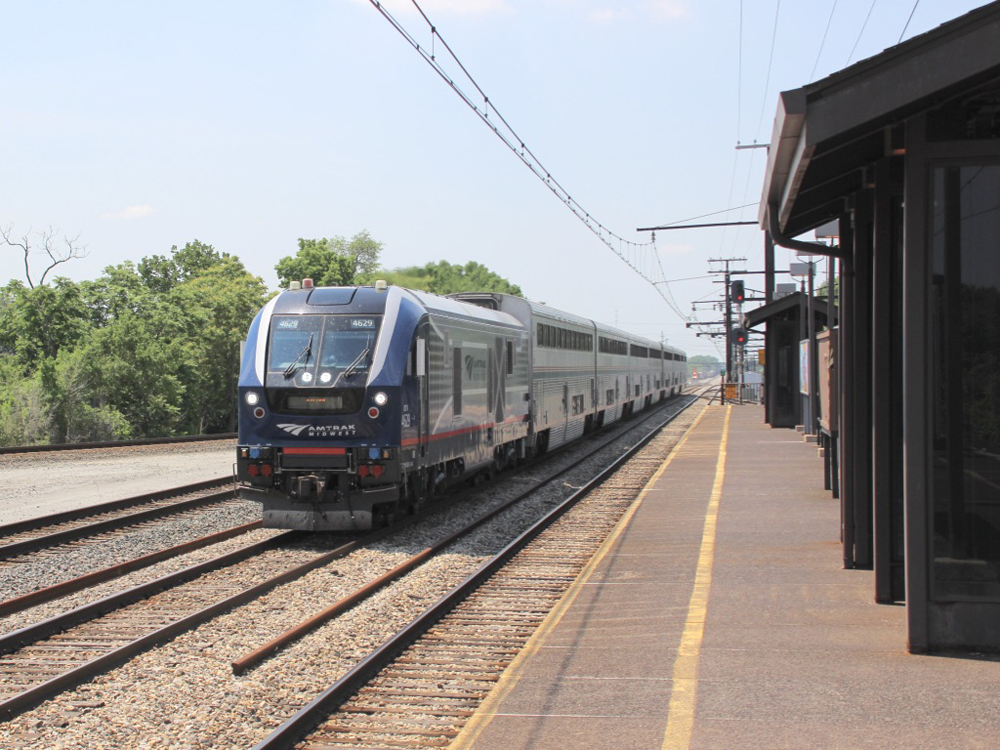 "We need to railroad for customers in North America," Ruest says. "I think that's basically the essence I'm getting from the executive order from the president, as well as the not-so-subtle message from the STB," Ruest says.
CN shares the STB's goal of having a fair, competitive, and open rail marketplace, says Sean Finn, the railway's chief legal officer.
"We share the broad goals expressed by the executive order," Ruest says, noting that CN's voting trust application is in the spirit of the executive order despite being filed weeks beforehand.
But Ruest, in response to an analyst question, said calls for reciprocal switching have nothing to do with the CN-KCS merger.
CN executives also say the railway will improve the on-time performance of the Amtrak trains it hosts and will work with the passenger railroad to launch service between Baton Rouge and New Orleans if funding can be obtained for the new route. Amtrak has urged the STB to reject CN's request to put KCS into a voting trust, citing CN's long-term record of poor timekeeping for its passenger trains.
"We come into this with an open mind about how we can better partner with passenger service, as well as Amtrak in the U.S.," Finn says.
Ruest says Canadian National understands that hosting Amtrak service is part of CN's social license to operate in the U.S. and that there's always room for improvement in how CN handles Amtrak trains.
"In our latest report card from Amtrak, we were rated as one of the top railroads in terms of service," Reilly says. "It's a commitment we have with Amtrak and we'll continue to work with them."