Saturday morning rail news: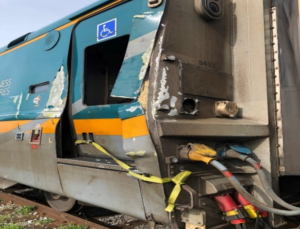 TSB report cites CN crew error in sideswipe accident with VIA train
The Transportation Safety Board of Canada has released its report on a September 2019 sideswipe collision between a VIA Rail Canada train and two tank cars in Ernestown, Ontario, finding that switching moves by a Canadian National crew caused two cars to derail and foul the main line, where they were struck by the passenger train. No injuries were reported, but eastbound VIA train 48 from Toronto to Ottawa suffered significant damage on its right side in the Sept. 5 accident, which occurred about 9:15 p.m. Cars being switched by crew of CN local 519 were shoved through the end of the track where they were to be set out, striking and derailing the tank cars on the adjacent track, which caused those cars to foul the main line. The VIA train was traveling at 62 mph when the crew spotted the cars fouling the main line and was unable to stop. The incident could potentially have been much more serious had the VIA train derailed; about 9 seconds after its collision with the tank cars, a westbound VIA train passed going 89 mph. Transport Canadian subsequently issued a letter to CN for non-compliance with the rule requiring a crew member to be in position to observe and control a shoving move.
With upgraded Caltrain route, high speed rail would need 45 minutes to travel San Francisco peninsula
The latest version of plans for California's high speed rail system would use the Caltrain route between San Jose and San Francisco to complete the journey from Southern California, a trip that would take about 45 minutes to go 49 miles with stops in San Jose and Millbrae before reaching the Caltrain depot in San Francisco. The San Francisco Chronicle reports the details are part of the environmental review of the Bay Area segment. Upgrading the Caltrain line to handle the high speed trains could displace as many as 62 homes and 202 businesses. Public comment on the environmental impact report are being accepted through Aug. 24.
Washington state study finds high costs for new passenger line; advocacy group disputes low ridership estimate
A recently released study estimates it would cost $300 million to $400 million to revive rail service between Seattle and Spokane through central Washington, plus $15 million to $30 million per year in operating costs — and ridership would be low under current conditions. The study is by consultants Steer Group, funded by the Washington State Legislature's Joint Transportation Committee. It is available here (sign-up required). It examined options ranging from a single daily round trip between Seattle and Yakima to two round trips between Seattle and Spokane via Yakima. It determined that a Seattle-Spokane trip via BNSF's Stampede Pass line would take about 8½ hours — 3 hours more than driving — and that travel times would suppress ridership, with estimates ranging from 31,000 to 205,000 trips annually. Most riders would travel within the Kittitas and Yakima valleys, with very few trips to or from Seattle or Spokane. Rail advocacy group All Aboard Washington has responded to the report by questioning the characterization of ridership projections as being low, feels it includes some questionable assumptions, and is incomplete.