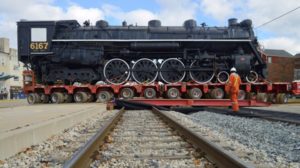 GUELPH, Ontario — Canadian National Railways 4-8-4 locomotive No. 6167 has been moved to its new display location in Guelph's John Galt Park.
The Northern was donated to the city in 1967, Canada's centennial year, and sat beside the main line and bus terminal until 2010, when it was moved to the south side of the tracks to be incorporated into a future GO Transit station platform. Plans changed at Metrolinx, GO Transit's quasi-governmental parent company, and the locomotive was given a 2020 deadline to be moved. Greenspace Construction, which is primarily a landscaping company, won the bid for the C$600,000 project, subcontracting the move to Mammoet, which specializes in heavy lifts.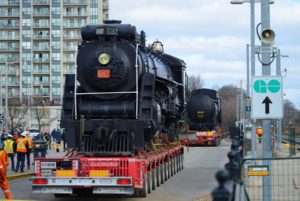 The move was scheduled for Nov. 14 to take advantage of an already-scheduled Metrolinx line closure for major track maintenance. The locomotive was hauled across the Guelph Subdivision tracks and the Macdonnell Street hill to the park — about a half-kilometer (three-tenths of a mile) from its prior site — where it was placed on the same rails and ties where it had sat a few days earlier.
Greenspace will complete the job by performing landscaping around the locomotive. Plans are that the locomotive will be accessible without fencing that has marred viewing in prior locations. The 6167 will be located beside the Guelph Junction Railway mainline and remains close to its former stomping grounds —the CNR Viaduct is just to the south, where GO and VIA Rail Canada passengers will still get a glimpse of the steamer as they pass overhead.
No. 6167 is considered Canada's most photographed steam locomotive as it was used for CNR's excursion service from 1960 to 1964 before being retired and donated to the city.