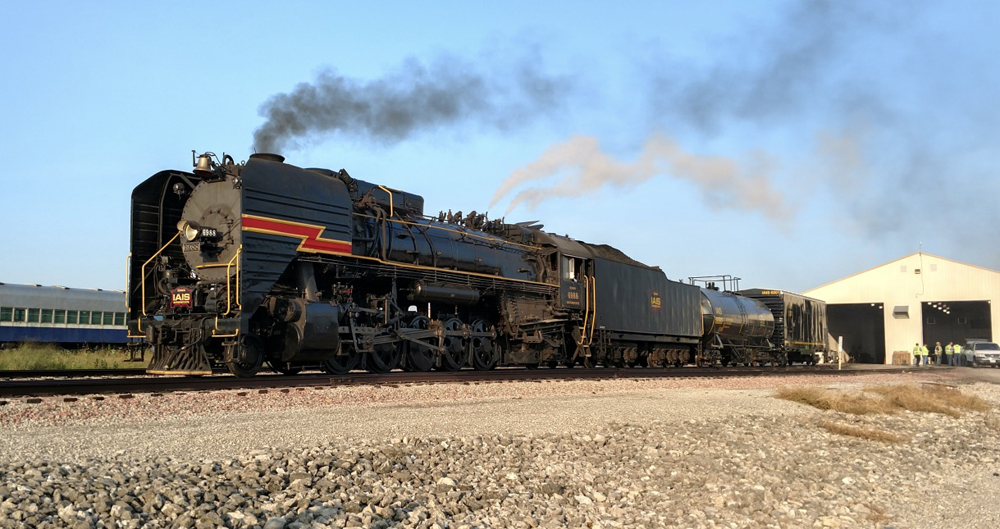 NEWTON, Iowa — If there wasn't enough going on in August 2021 for the steam locomotive enthusiast, here's one more special event to keep an eye on, or maybe even attend: An Iowa-based Chinese-built QJ 2-10-2 is starting its public tour.
On Friday, Central States Steam Preservation No. 6988 made a deadhead freight move from the Iowa Interstate shop in Newton, Iowa, to South Amana, Iowa, in preparation for short trips this weekend benefitting local emergency services agencies. On Saturday, the train will operate sold out excursions for the Oxford (Iowa) Fire Department. On Sunday trips benefit the Wilton (Iowa) Fire Department, and a few Sunday morning tickets remained available.
In addition to the Iowa steam trips, Union Pacific Big Boy No. 4014 is on a 31-day tour that is taking it to New Orleans this weekend (with a sold-out excursion Sunday), and the Cumbres & Toltec Scenic's sold out 50th anniversary event (delayed from last year due to Covid-19), Victorian Iron Horse Roundup, begins Saturday and continues through Aug. 30.
No. 6988 was built in 1985 and saw extensive service in China until it was brought to the U.S. with sister 7081 by the Iowa Interstate. The two engines ran in community service until 2013 when they were set aside. The Americanized No. 6988, nicknamed Iowa Bolt, was brought back out in 2019.
Additionally, the Central States Steam Preservation Association and the Iowa Interstate Railroad, in partnership with Operation Lifesaver and the Science Center of Iowa, will run short passenger trips out of downtown Des Moines with No. 6988 Labor Day Weekend.
Riders will be able to enjoy an operating display from Operation Lifesaver to learn about railway safety, and a trip into the Iowa countryside behind the Chinese-built QJ No. 6988 as a part of this event. They can also enjoy the rest of what the Science Center of Iowa has to offer, such as a Mini Makers Fair on Monday, Sept. 6, for an additional fee.
No. 6988 will be on static display for the public (at no fee for visitors) on Saturday, Sept. 4, between 11 a.m. and 4 p.m. outside the Science Center of Iowa on 4th street.
The train will make five runs on Sunday, Sept. 5, between 9 a.m. and 3 p.m., and four runs on Monday, Sept. 6, between 9 a.m. and 1:30 p.m. Each train ride will last approximately 50 minutes and will depart from 4th Street in front of the Science Center of Iowa.
For more information and to purchase tickets, please visit the Science Center of Iowa website.