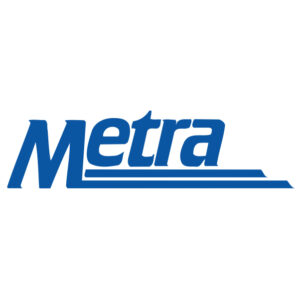 CLARENDON HILLS, Ill. – A woman passenger was killed here Wednesday morning and four other people were injured when a Chicago-bound Metra commuter train hit a box truck that was stalled at a crossing on the triple-track BNSF Railway main line.
Metra train No. 1242 struck the vehicle at Prospect Avenue about 8:10 a.m., according to the Chicago Tribune and other news agencies.
Officials did not release the age or name of the woman, who was pronounced dead at the site. Of the four injured, two were commuters and two were railroad employees — an engineer and a conductor. Their injuries were not believed to be life-threatening. The truck driver and at least one other occupant managed to escape seconds before impact and were uninjured.
"All of us on Metra and BNSF Railway are devastated by this death, and we will be working hand-in-hand with the NTSB (National Transportation Safety Board) to find out what happened," says Metra spokesman Michael Gillis.
The leading bilevel cab car, No. 8473, and five more bilevel coaches were being pushed toward Chicago by an F40PHM-3 locomotive. According to a video account of the incident, crossing warning lights were flashing, bells were ringing, the train's horn was sounding, and a crossing gate had descended onto the cab of the truck, which was fouling the southernmost track of the three-track line.
On impact, the truck was shoved to the side and burst into flames. The engine and cars remained upright and in line as they came to a halt. The collision damaged the front of the cab car, but inflicted more damage on the side by ripping open the lower part of its stainless-steel flank behind the center door.
Clarendon Hills is about halfway between Chicago Union Station and Aurora, Ill., terminus of the 38-mile-long BNSF commuter district.
Metra spokeswoman Meg Thomas-Reile says a mechanical issue affecting another train caused a shuffling of schedules. Train 1242 normally originates at Aurora and makes all stops en route to Chicago. But on Wednesday, it was running express and was not scheduled to stop at Clarendon Hills.
By afternoon, the NTSB had begun its investigation. Metra at first suspended service on the BNSF line, then resumed it in the afternoon, but did not pick up passengers at Clarendon Hills. Westbound commuters were allowed to detrain here to retrieve their parked autos.
The agency advised passengers that delays were likely at the site, and encouraged them to consider alternate train service, including taking the parallel Union Pacific West (former Chicago & North Western) route between Chicago and Elburn, Ill. Metra announced that Thursday's BNSF service would be operated on a Saturday schedule, with no stops at Clarendon Hills.
It was the second fatal accident in Metra's history, Thomas-Reile says, the first occurring on Sept. 17, 2005, when a Rock Island inbound commuter train derailed at a switch, killing two passengers and injuring 46 others.
Updates on the status of Metra's BNSF Chicago-Aurora service can be found at https://ridertools.metrarail.com/