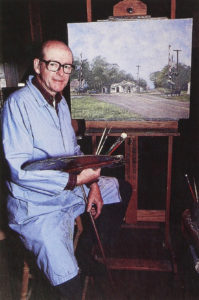 Charles L. Amos, who had notable careers as both a railroader and artist, and whose exceptional paintings were featured in Trains Magazine, has died at age 90.
Amos began his railroading career as a Western Maryland Railway clerk in 1952, but made his way to train service, first as a brakeman and then as a fireman. He eventually reached upper management in the company before leaving in 1970 to join the Federal Railroad Administration. He also worked for the U.S. Department of Transportation and Association of American Railroads before retiring to pursue a career in art. A 2019 article in the Cumberland Times-News, on the publication of his memoir, "Iron Horses & Paintbrushes: My Life as a Railroad Man and Artist," notes that CSX Transportation named its Cumberland, Md., locomotive shop for Amos.
Amos and his wife Mary moved to Cumberland in 1987. From 1988-91 he served as executive director of the Chamber of Commerce of Alleghany County, and he eventually began working as an engineer or fireman on Western Maryland Scenic Railway excursions while also serving as a director for the tourist railroad. He maintained a robust 35-year art career, accepting commissions from railroads, other companies, and individuals before retiring from painting in 2015. In a July 1996 Trains article, Amos explained why he preferred commission work: "Like Arthur Fielder," he said, referencing the long-time conductor of the Boston Pops orchestra, "my preference is to create art that people want and enjoy."
While he did some non-rail work, he said his railroading background gave him "a special responsibility as a professional artist to work from my unique perspective. My task is to portray the railroad from an insider's perspective, to convey the feeling of cracking the throttle of a 2-8-0 or 4-6-2, to capture on canvas the life, breath, sounds, sights, and smells of the locomotive — all this without being falsely romantic."
Born in Baltimore, Amos graduated from Towson High School and earned a bachelor's degree from the University of Baltimore in 1955. He served in the Maryland National Guard from 1947 to 1959. The Baltimore Sun reports Amos died in his sleep Nov. 11 at Sterling Care at Frostburg Village, in Frostburg, Md. He is survived by three sons, a daughter, 13 grandchildren and a great-granddaughter. His wife died in 2012.