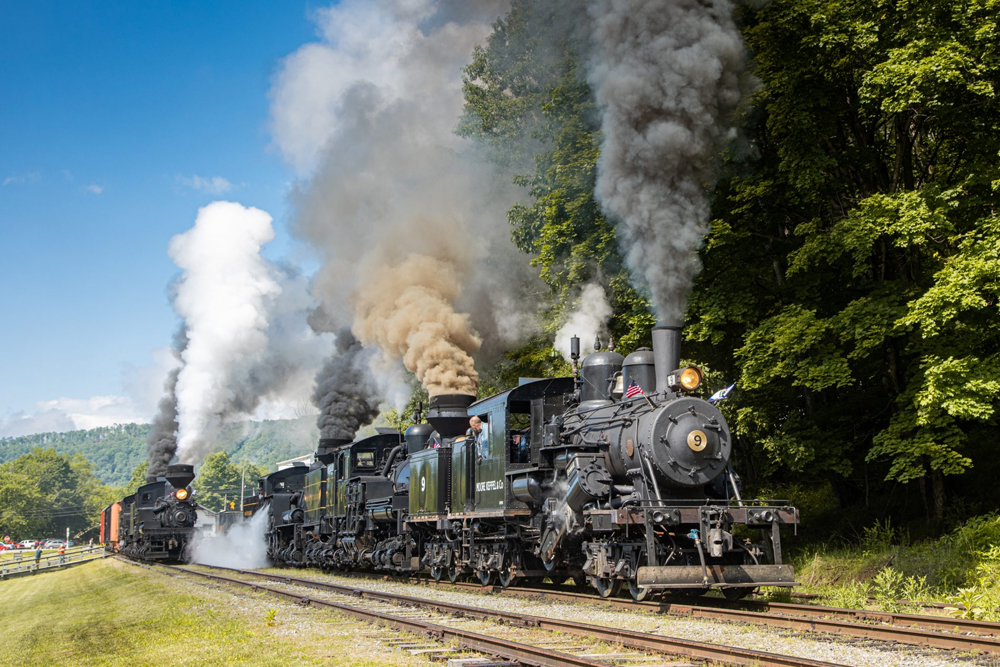 ---
CASS, W.Va. — Cass Scenic Railroad operator Durbin & Greenbrier Valley Railroad has announced that the 2023 Parade of Steam will take place June 17 at the Cass depot.
In previous years, this increasingly popular event has featured five of Cass Scenic's geared steam locomotives, in various combinations, under steam.  However, if all goes as planned, six locomotives should be available this year: Climax No. 9 and Shays Nos. 2, 4, 5, 6, and 11.
"We actually started the Parade of Steam in June of 2020, during the height of the pandemic, as a way to let people know that we're still alive and well; 2023 will be the fourth Parade of Steam," said Durbin & Greenbrier Valley President John Smith.
Locomotives will begin arriving about 9:30 a.m. The parade will commence at 10:00 a.m. and last about an hour. Though the parade itself is free and open to the general public, special trains will run at 1 p.m. and 3 p.m. along the newly reopened Greenbrier River line as far as Wanless Run and then return, an approximately 8-mile, 1-hour round trip. Tickets will be $30 for ages 4 and older, free for ages 3 and younger.  Visit the Mountain Rail website for more information and casstrain.com for reservations.
Regular Whittaker Station, Bald Knob, and Greenbrier Express trains will not run the day of the Parade of Steam.