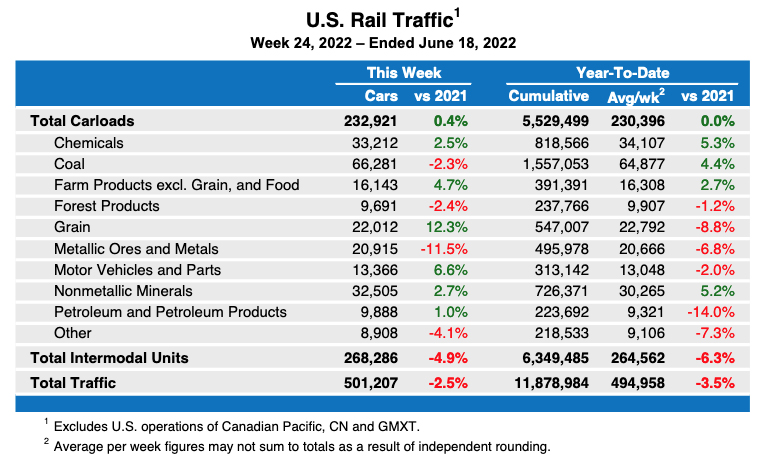 ---
WASHINGTON — Carload traffic moved back above 2021 levels by a slight margin in the latest weekly statistics from the Association of American Railroads, while overall traffic remains down — albeit to a lesser extent.
For the week ending June 18, U.S. railroads moved 232,921 carloads, a 0.4% increase over the same week in 2021. Total intermodal traffic of 268,286 trailers and containers was down 4.9%, with the total of 501,207 carloads and intermodal units representing a 2.5% decrease. The previous week had seen carload traffic down 2.8% and overall traffic down 3.6% [see "U.S. rail traffic remains below 2021 levels," Trains News Wire, June 16, 2022].
Carload traffic was boosted by increases in six of 10 commodities tracked by the AAR, led by grain, up 12.3%.
Year-to-date totals through 24 weeks of 2022 show overall traffic down 3.5% at an average of 494,958 carloads and intermodal units per week. Intermodal traffic is down 6.3%, while carloads are level with 2021.
North American figures for the week, from 12 U.S., Canadian, and Mexican railroads, include 328,846 carloads, down 0.8% from the corresponding week in 2021; 353,209 intermodal units,  down 4.6%, and a total of 682,055 carloads and intermodal units, a 2.8% decrease. Year-to-date North American totals show volume down 3.6% from 2021.