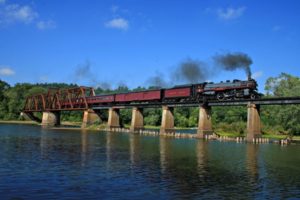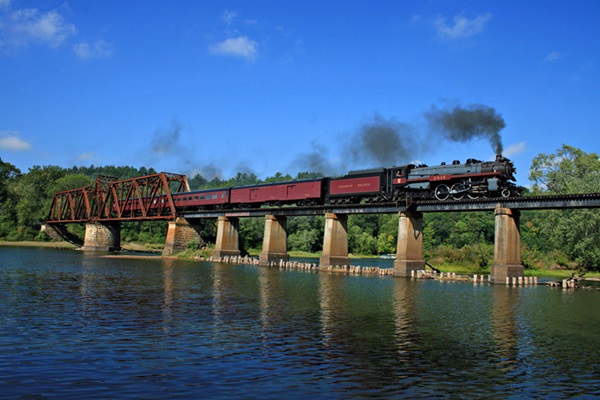 CALGARY, Alberta — Canadian Pacific 4-6-4 No. 2816 is making a one-time-only return to steam to pull a "virtual" edition of Canadian Pacific's Holiday Train, returning to operation after nearly a decade of dormancy. The locomotive will pull the train later this month in the yard at Calgary and will not operate on the main line. The locomotive was steamed up and moved around the yard in Calgary Nov. 13.
CP spokesman Andy Cummings confirmed the engine is back in operation. "CP has steamed up 2816 and is assessing its mechanical position. We have no plans to operate the engine on main lines," he said.
No. 2816 was last steamed in October 2013, and has subsequently has been stored indoors in serviceable condition, receiving regular maintenance in the event it was returned to service. Regulations regarding steam locomotives are different in Canada, so the engine is not subject to boiler regulations requiring a 1,472-day inspection that would go into effect if it were to run again in the US. In addition, the engine will only operate in the yard at Calgary.
The operation does not mean CP will be returning the 4-6-4 to main line operation soon. Sources indicated this is one-time operation for the Holiday Train, which will not travel across Canada or the US because of the COVID-19 pandemic. Instead, crews will film 2816 pulling the train in Calgary later this month and the Holiday Train video will be available on line.
Serena Ryder and The Trews will headline CP's 2020 "Holiday Train at Home" concert, which will stream on CP's Facebook page Dec. 12. The event will raise money and awareness and help local food banks collect donations.
Known as "The Empress," the Montreal Locomotive Works built the H1b Hudson in December 1930. The locomotive was retired in 1960 and went to Nelson Blount's Steamtown USA in Bellows Falls, Vt. The engine was moved with the Steamtown collection to Scranton, Pa. in 1984. Canadian Pacific purchased the locomotive from Steamtown in 1998, and it was moved to Canada where restoration work was completed in 2001. The engine operated in special train and excursion service until 2013, when it was placed in storage in Calgary.
— Updated at 4:30 p.m. to correct date 2816 last operated.