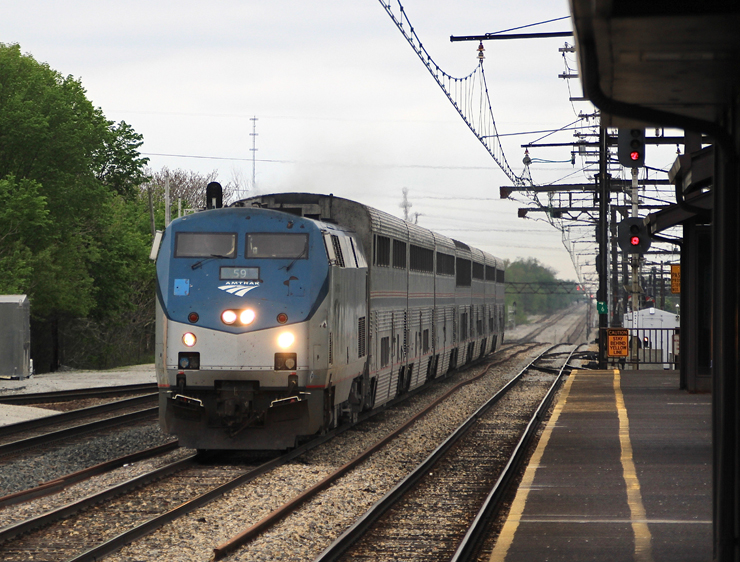 ---
WASHINGTON — Canadian National calls an Amtrak proposal that would give it dispatching control over CN lines with poor passenger performance "an outrageously self-serving recipe" that would "cause profound harm to freight railroads, freight customers, American consumers, and the broader economy," and urges the Surface Transportation Board to reject the concept "out of hand."
Amtrak, meanwhile, is urging the board to reject CN's latest proposal for a contract between the two companies, saying it is not in keeping with performance metrics established by the Federal Railroad Administration and "would lead to the absurd result that CN can earn incentives … when Amtrak passengers are routinely late as a result of CN's actions."
Those views are part of the latest filings before the STB over the companies' long-running inability to negotiate a new operating agreement, which has led to the continued use of a contract dating to 2011. The July 26 filings are in response to initial arguments in May that included the Amtrak proposal on dispatching [see "Amtrak seeks right to take over dispatching …," Trains News Wire, May 31, 2022].
Amtrak proposal an 'overreach,' CN says
The 297-page public version of the CN filing redacts contract and other details, such as the number of trains handled by dispatchers. It claims the Amtrak proposal based on Host-Responsible Delays reflects a plan previously rejected by the board, "randomly adjusts" incentives and penalties based on customer-on time performance and ridership changes that are not indicative of CN performance, and would leave CN with "no realistic opportunities to earn net incentives," leaving the host railroad no financial incentive to perform well and causing it to subsidize Amtrak.
But it most strongly disagrees with Amtrak's proposal that would allow the passenger railroad to assume control of dispatching if its trains on CN exceeded a set number of minutes of delay for four consecutive calendar quarters, calling it "a breathtaking overreach that would run roughshod over shipper and host freight railroad interests," and claiming Amtrak could invoke that authority even if trains meet the 80% customer on-time standard established by the Federal Railroad Administration.
"Amtrak's proposal treats CN's network as if it were Amtrak's property," the filing states, "and would likely result in a material lessening of the quality of freight service on CN's network, and more broadly, the nation's inter-dependent freight network."
CN offers no method to deal with continuing delays, Amtrak says
Amtrak's 407-page public filing, meanwhile, is heavily redacted, removing the nature of a CN proposal for mediation in one area and one complete section of an argument why the board should reject a CN proposal regarding review of schedules. It argues that the CN proposal, in addition to failing to comply with the FRA performance metrics established in 2020 [see "FRA publishes final rule …," News Wire, Nov. 16, 2020], provides for no "concrete action" to address sustained poor performance.
"Rather, it proposes that — after six months of poor Amtrak performance — the Parties then embark on a time-consuming process of investigations, meetings, and discussions about the causes of Amtrak's delays," the Amtrak filing says. "If the Parties cannot agree on remedial action, this arduous process drags on for months and potentially years more." [Emphasis in the original].
CN is also asking that Amtrak be required to reimburse it for crew overtime, fuel, and equipment costs resulting when freight trains make way for Amtrak trains. Amtrak says this should be rejected because the host railroad "is not entitled to reimbursement for discharging its statutory obligation to provide preference to Amtrak trains."
Amtrak also says CN is asking for a joint review of Amtrak schedules, which it says is unnecessary because of the schedule certification process outlined in the 2020 FRA rule on performance metrics, and that CN is proposal an "unduly burdensome and overly complicated" dispute resolution system that involves 40 different codes to classify delays. Amtrak says its proposed agreement includes only seven such codes.