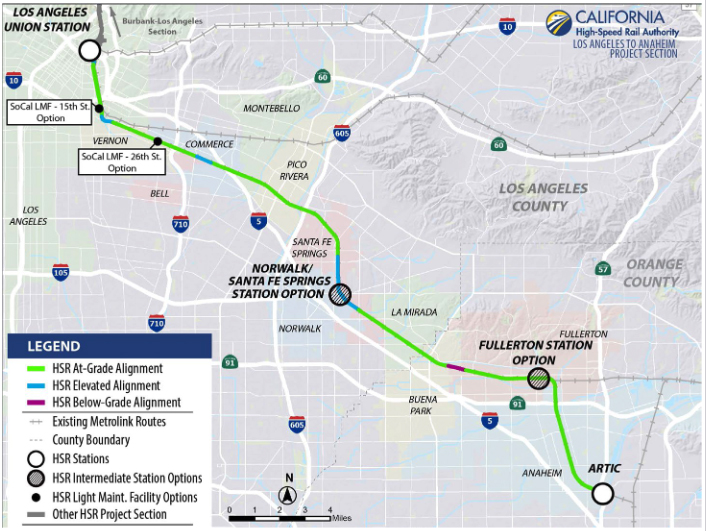 LOS ANGELES — The California High-Speed Rail Authority is proposing changes for the Los Angeles-Anaheim portion of its route, introducing a plan that would build a fourth track in that segment to help handle freight traffic.
KTLA-TV reports the revision reflects opposition to an earlier plan which would have seen a new freight facility built in Colton; that facility was designed to move freight trains off the route that would be shared with high-speed rail, Metrolink, and Amtrak trains. Colton residents objected to gaining increased emissions and road traffic while not seeing any benefits from the high-speed project, High-Speed Rail Authority spokesman Jim Patrick told the TV station, leading to the revision.
The new plan would see a four-line route — one more than was originally planned — with two electrified tracks. While earlier plans called for some tracks to be passenger only, the new plan would allow BNSF freight traffic to move on any of the four tracks. It might also require a reduction in high-speed rail operations, from four trains per hour to two in each direction.
The plan also calls for a new light maintenance facility for the high speed rail equipment at one of two sites — adjacent to Amtrak's 8th Street Yard, or next to BNSF's Hobard Yard. Either facility would cover 40 or more acres, include six shop tracks, and be able to handle at least 20 trainsets.
The Authority also announced it will consider having one or no intermediate stops between Los Angeles and Anaheim. Previously, the project had proposed stations in both Norwalk/Santa Fe Springs and Fullerton, but its presentation on the potential changes indicates uncertain support for the stations in both cities, design and parking constraints in both locations, and cost savings as well as reduced scheduling impacts.
A full presentation on the changes is available here.