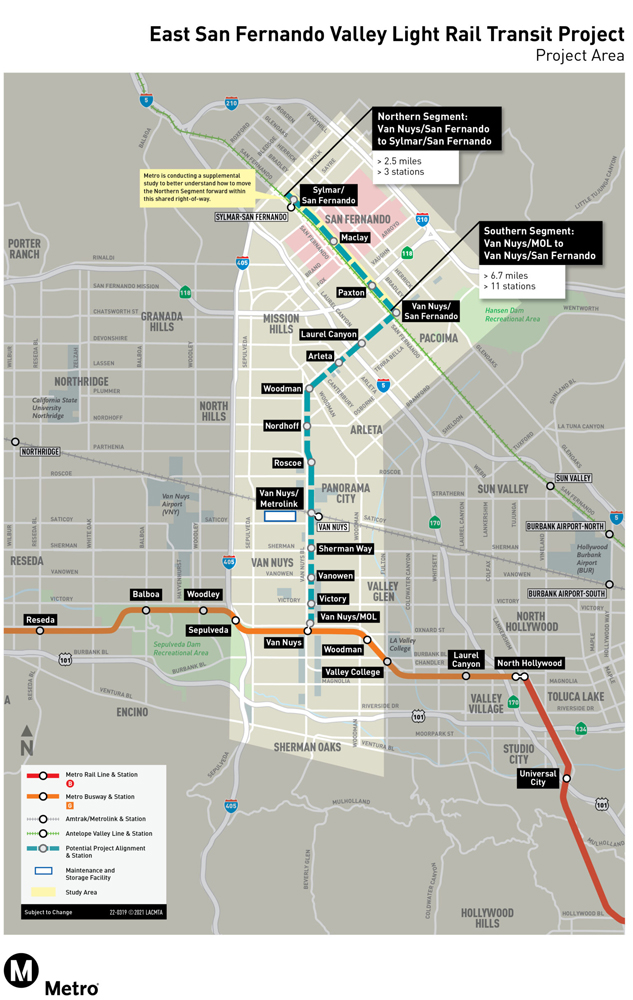 ---
SACRAMENTO — A $600 million award to L.A. Metro for its East San Fernando Valley Light Rail Transit Corridor project heads the more than $2.5 billion in funding announced this week by the California State Transportation Agency for transit projects, most of them rail-related.
The awards are to 16 projects, including funding announced earlier this week by Caltrain for its electrification project [see "Caltrain to receive $367 million …," Trains News Wire, Feb. 1, 2023].
The 6.7-mile light line will run from Van Nuys to Pacoima, with a second segment of 2.5 miles planned to San Fernando. When complete, the route will connect bus rapid transit and two Metrolink commuter rail lines.
Metro board chairman Ara J. Najarian said the funding "will be critical in allowing us to fully utilize available federal dollars, which will facilitate for us to continue to advocate to secure additional state funding for other key projects." More information on the San Fernando project is available here.
A full list of the projects receiving funding is available here. Others of note include:
— $407.4 million for the Inglewood Transit Connector, a 1.6-mile rail line to connect the Metro light rail K line to Inglewood venues such as SoFi Stadium and the Kia Forum.
— $375 million to the Santa Clara Valley Transportation Authority for phase II of the BART Silicon Valley Extension, to bring BART service to downtown San Jose and Santa Clara.
— $250 million to Bay Area Rapid Transit for the Transbay Corridor Core Capacity Program, which aims to expand Transbay Tunnel capacity to 30 trains per hour by 2030.
— $149.8 million to the Orange County Transportation Authority for its OC Streetcar project, building a 4.15 rail line in Santa Ana and Garden Grove.
— $141.9 million to the San Joaquin Joint Powers Authority and San Joaquin Regional Rail Commission for the Valley Rail project, for various elements benefiting ACE commuter rail and Amtrak San Joaquins service.
— $106.9 million to Metrolink for three elements of its Southern California Optimized Rail Expansion (SCORE) project, for improvements in LA, Orange, and Ventura counties.
— $34.3 million to Sonoma-Marin Area Rail Transit for its Larkspur to Windsor Corridor Project, part of the system's northward expansion toward Healdsburg.
— $30 million to the Capitol Corridor Joint Powers Authority for the Sacramento-Roseville Third Track Project.
— $15.8 million to the San Bernardino County Transportation Authority for zero-emission multiple-unit trainsets for its Arrow rail service.
Surfliner agency receives $31 million
Others receiving awards from CalSTA include the agency that oversees Amtrak's Pacific Surfliner service, receiving $31 million for a package of projects to improve service along the route, the California State Transportation Agency announced on Wednesday.
The funding for the Los Angeles-San Diego-San Luis Obispo, or LOSSAN, Rail Corridor Agency, will fund work including a new layover facility in San Luis Obispo and work to protect the corridor in Ventura and Santa Barbara counties, including coastal resiliency and slope stabilization work. The money comes from the Transit and Intercity Rail Capital Program, funded through state Senate Bill 1.
"We're thankful for the support from CalSTA and the funding provided through SB 1, which will help us with much-needed improvements along the LOSSAN corridor," LOSSAN Vice Chair Jewel Edson said in a press release. "This investment will allow us to continue expanding and growing our service on the historically second-busiest intercity passenger rail corridor in the nation."