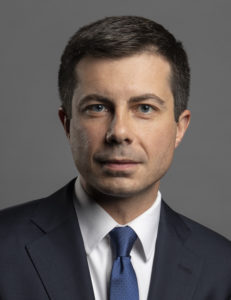 Buttigieg served for eight years as mayor of South Bend, Ind., a city of about 100,000, crisscrossed by two busy freight railroads, a stop on two Amtrak long-distance routes and the eastern terminus of a commuter train to downtown Chicago.
Biden's onetime rival for the nomination supported a project to add 16.9 miles of double track to the South Shore Line from Gary to Michigan City. In August, the project received a $50.6 million Capital Investment Grant from the Federal Transit Administration.
The $460 million project also includes four new bridges, nine new station platforms and the addition of more than 1,300 parking spaces at four stations. A section of single-track street running in Michigan City will be replaced by two ballasted tracks. Additionally, 21 grade crossings in Michigan City will be eliminated.
The improvements are projected to cut travel times from South Bend to downtown Chicago from 114 minutes to 84 minutes. Construction is scheduled to begin next year and be completed in 2024.
Buttigieg also sought federal funding to extend the South Shore Line from South Bend International Airport to the city's downtown. Funding for the project could come through the USDOT's BUILD (Better Utilizing Investments to Leverage Development) program.
Amtrak's Capitol Limited and Lake Shore Limited both stop in South Bend. Like Amtrak's other long-distance trains, they have been cut back from daily to three times a week since October because the coronavirus pandemic has dramatically reduced ridership.
With Buttigieg at USDOT and Biden in the White House, Amtrak could get the extra funding it needs to restore daily service in South Bend and elsewhere.
The most contentious rail issue Buttigieg encountered as mayor of South Bend had to do with train horns. In 2017, the Federal Railroad Administration revoked the city's "quiet zone" until it installed median barriers at about 11 grade crossings.
With Norfolk Southern's Chicago Line and Canadian National's South Bend Subdivision operating day and night through the city, Buttigieg had every incentive to resolve the problem so his annoyed constituents could sleep.
Buttigieg's nomination requires Senate confirmation.
Rail industry leaders and advocates praised his selection.
"Amtrak is excited to work with Transportation Secretary designee Pete Buttigieg to launch an era of passenger rail expansion and improvement across the nation," said Tony Coscia, Amtrak's chairman. "President-elect Biden knows that rail investments will support economic recovery, expanded mobility, and carbon emissions reduction and we are looking forward to working with Mayor Buttigieg and the new Administration to advance these essential goals."
Jim Mathews, president and CEO of the Rail Passengers Association, said "Mayors are the frontline officials in the campaign to rebuild U.S. infrastructure. As a small-town mayor — and, more specifically, as an Amtrak mayor — Buttigieg will understand the challenges that come with keeping people physically connected to economic opportunity."