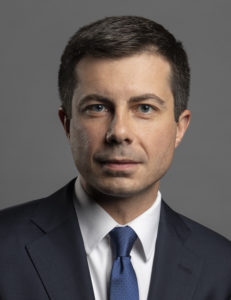 WASHINGTON — If Americans now have a train enthusiast in the White House, they soon will have one at the U.S. Department of Transportation.
Pete Buttigieg, the former mayor of South Bend, Indiana, testified Thursday to the Senate Commerce Committee, a precursor to his likely confirmation by the full Senate.
The committee's chairman, Mississippi Republican Roger Wicker, invited Buttigieg to visit the state to see one of Wicker's priorities: restoring Amtrak service to the state's Gulf Coast communities. The tri-weekly Sunset Limited has not operated east of New Orleans since Hurricane Katrina in 2005.
"I'm only the second biggest passenger rail enthusiast in this particular administration," Buttigieg told Wicker, referring to President Joe Biden, a longtime Amtrak rider.
Connecticut Democrat Richard Blumenthal sought Buttigieg's commitment to the Gateway Program, which would replace and rebuild the 111-year-old Amtrak tunnels under the Hudson River between New Jersey and New York. The tunnels are a key link in the Northeast Corridor but was heavily damaged by Hurricane Sandy in 2012.
The project has strong support from officials in New York, New Jersey and Connecticut, but the Trump administration was slow to move it along.
"I've heard this loud and clear from you and your colleagues in the region," Buttigieg told Blumenthal.
Buttigieg, who made his own run for president last year before endorsing Biden, brings a mayor's perspective to the department.
He helped South Shore Line obtain federal funding to build double track from Gary to Michigan City, Indiana, on the commuter railroad's route from Chicago to South Bend.
He also pushed for the Federal Railroad Administration to restore a quiet zone in South Bend, which is crisscrossed by busy Norfolk Southern and Canadian National routes.
"As a mayor from the industrial Midwest, I will bring a bottom-up perspective on transportation programs and funding," Buttigieg said in his opening remarks. "If confirmed, I look forward to working with our partners at the state, local, territorial, and tribal levels to find solutions to our infrastructure issues while we also prepare for the future of transportation at a time of great change."