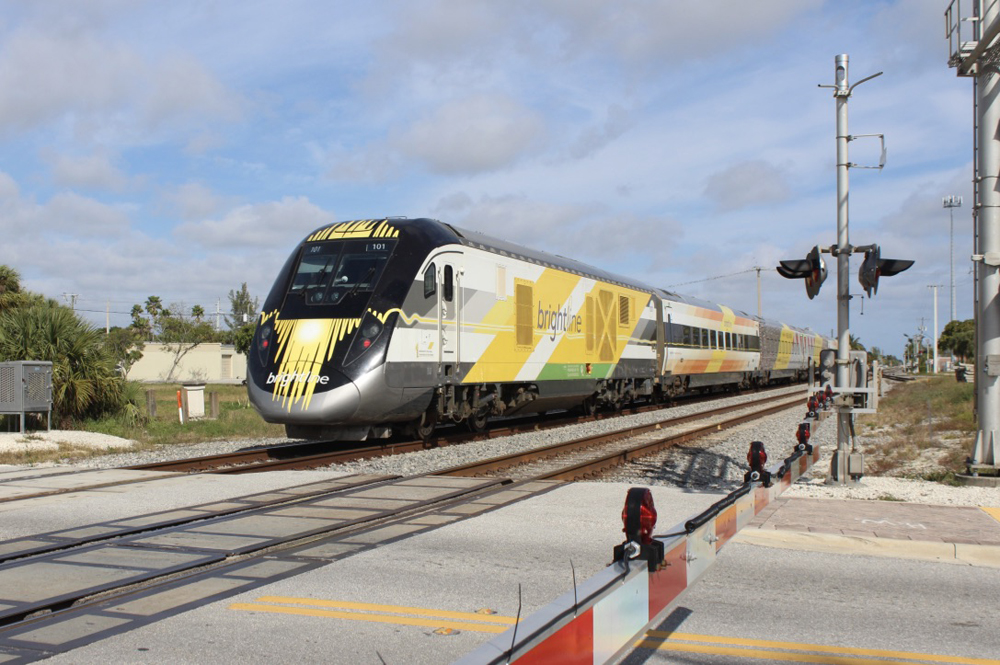 MELBOURNE, Fla. — In another small step forward for Brightline's planned expansion of service north to Orlando, one of the passenger operator's trains reached a top speed of 79 mph Wednesday afternoon on an approximately 20-mile stretch of Florida East Coast Railway track between Melbourne and Rockledge, Fla.
Florida Today reports Brightline spokeswoman Katie Mitnzer said 79-mph testing will continue over the next few weeks. The next step, testing at 110 mph, is scheduled for this fall.
Testing this week will continue through 6 p.m. Friday, with flaggers stationed at six crossings along the test segment — four in Rockledge, one in Suntree, and one in Melbourne. The company is publicizing the testing to increase driver and pedestrian awareness of increased traffic, and faster moving trains, at grade crossings; its press briefing Wednesday also included Melbourne Police Cmdr. Mark Renkens, who warned motorists to be aware of the faster closing speeds with passenger trains and the possibility of trains approaching in each direction on the newly double-tracked route.
Brightline has said that approximately 80% of construction is complete between its current northern terminus, West Palm Beach, and Orlando. It projects service will begin in early 2023.