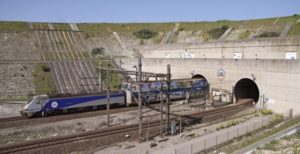 LONDON — The impact of the United Kingdom's exit from the European Union is only now becoming apparent to British passenger and freight rail operations, with freight traffic delayed and the Eurostar passenger operation, in particular, facing severe challenges.
The UK formally left the European Union Dec. 31, with a limited free-trade deal agreed at the last minute preventing a complete rupture in trade relations between the UK and the bloc. This followed the UK's narrow vote in a 2016 national referendum in 2016 to leave the EU; discussions on the future relationship had been underway since then.
The final deal is in no way as wide-ranging or flexible as that promised prior to the referendum by the British politicians pushing for Brexit (Britain's exit). While the UK is no longer an EU member, it is also no longer in the EU's customs zone, meaning big changes for freight and people crossing the border.
New customs rules disrupting some freight shipments
Much of the UK's trade is with the EU (more than half of all imports to the UK and 43% of all exports), and most goes by truck — via either the truck shuttle service on the privately owned, rail-only Channel Tunnel truck shuttle connecting England and France, run by tunnel operator Eurotunnel, or on ferries that operate on the nearby Dover-Calais route.
New customs rules for freight moving to the EU are causing shipments to be cancelled, delayed, or disrupted. Most British exporters were unready for a new system, literally introduced a few hours before it came into force. Organizations representing UK freight companies have forecast significant disruption to trade in coming months, and it is already apparent that some British exports, such as fresh food, are now so bureaucratically difficult that they have simply stopped entirely. Currently the problems largely hit exports from the UK, as the British government doesn't plan enforcing customs checks for imports from the EU until the summer.
There is some freight-train traffic through the Channel Tunnel, although the amount moved has declined in recent years. In 2020, Brexit contributed to the loss of an almost daily movement of steel from England to France, where it was rolled into rails used across Europe for high speed rail routes. The French rail factory is now sourcing steel from nearby EU member countries instead.
However there is some new rail freight; some UK supermarkets dependant on citrus fruit from Spain are now importing this by rail, with intermodal cars carrying the packaged fruit added to a regular service that supplies auto components from Spain to car factories in the UK. It is possible the disruption for road freight may lead to more cargo moving by train through the Channel Tunnel, but the fact most of the British rail network has low height clearances for European-sized freight cars limits the possibilities. Full European-sized freight can use the HS1 high speed passenger line between the tunnel and terminals east of London, but currently only a few freight trains do this.
Eurostar business plans in tatters
The COVID pandemic led to severe cuts in Eurostar high speed passenger service from London to Paris, Brussels, and Amsterdam; often no more than one or two trains run daily. Plans to increase service in the run-up to Christmas were ruined by the discovery of a new, more virulent strain of the coronavirus in the UK, and as a result, European neighbors briefly closed their borders completely. While the borders have reopened, the need for all passengers and crew to present negative COVID tests has reduced demand substantially.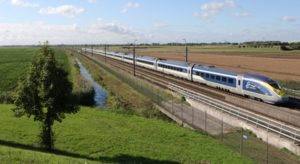 Since January, thanks to Brexit, all British travellers on Eurostar (which make up a large percentage of the total) need to comply with new EU travel rules which require time-consuming passport checks and stamps both entering and leaving the EU, in place of automatic gates used previously. This means overall journey times will be much longer, as the operator is telling passengers to arrive 75 minutes before departure rather than the previous 45 minutes. This extra time — especially if it is even longer in practice; each Eurostar train can carry 900 passengers — is likely to cause potential leisure passengers to reconsider flying instead. There is, however, no realistic prospect of leisure travel from the UK to Europe in the next several months due to COVID restrictions; the UK is now treated as a "third country" by the EU for health purposes, so travel is largely prohibited. With some predicting such trips will not be possible before summer or possibly later, it is unclear when, if at all, Eurostar will be again able to offer a full service.
In November 2020, the chief executives of Eurostar and the privately held UK high speed line concession HS1 made an unusual public appeal for government help from the UK and French governments. Despite the French government being the largest shareholder in Eurostar, neither it or the British government (which sold its stake in Eurostar in 2015, most of it to Canadian investor Caisse de Depot et Placement du Quebec) has offered any new financial help. Both governments have however offered billions of dollars' worth of aid to privately owned airlines! In the UK, the HS1 concession deal is partly guaranteed by the government, as domestic Southeastern 140-mph regional rail services use the line, too, and these are covered by a minimum use/payment contract.