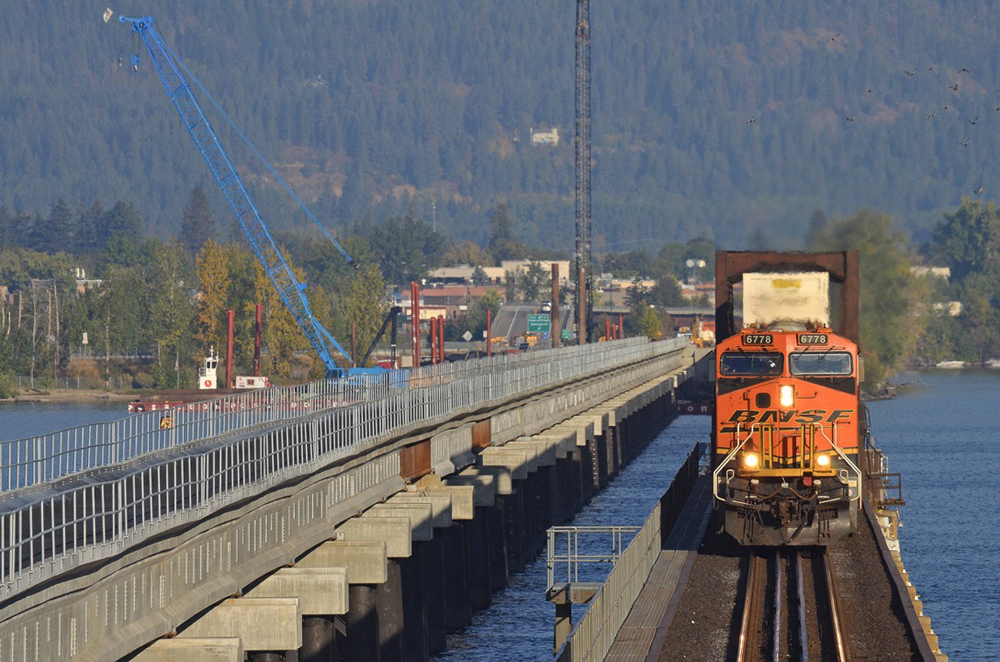 ---
SANDPOINT, Idaho — BNSF Railway's nearly mile-long second bridge across Lake Pend Oreille near Sandpoint is now structurally complete and tracklaying has begun. BNSF spokeswoman Lena Kent says, "The new bridge will have trains operating over it by the end of November."
Initially, the second main will be laid from a point near the northwest (railroad east) end of the bridge to the beginning of current double track at East Algoma, across the lake from Sandpoint. Two smaller bridges, across Sand Creek and Bridge Street in Sandpoint, will not have their second main track laid until 2023.
Completion of the second main all the way to Sandpoint Junction, where BNSF and Montana Rail Link connect, will require further preparation of the narrow right-of-way past Sandpoint's ex-Northern Pacific depot served by Amtrak's Empire Builder.  BNSF says the depot platform will be rebuilt to allow the second main to fit between the depot and the existing main.
After the second bridge over Lake Pend Oreille is placed in service, BNSF plans to resume the process — which began in 2008 — of replacing piers and deck segments on the existing ex-NP bridge, which dates to 1904.