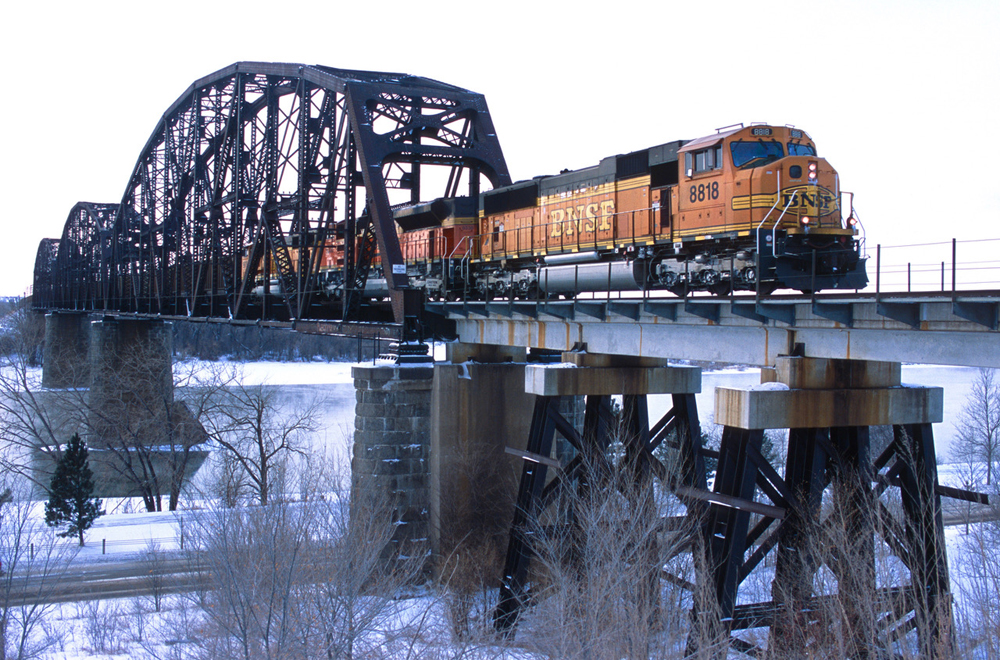 BISMARCK, N.D. — After five years in which local preservation efforts have delayed efforts to replace the structure, BNSF Railway has asked the U.S. Coast Guard to allow efforts to proceed to demolish the 138-year-old Bismarck-Mandan Rail Bridge over the Missouri River.
The Bismarck Tribune reports BNSF Director of Bridge Maintenance Mike Herzog sent an eight-page letter earlier this week to the Coast Guard — which has the right to approve projects because the bridge is a navigable waterway — to allow demolition efforts to move forward because preservation group Friends of the Rail Bridge has missed deadlines, failed to obtain a public partner, and has not demonstrated an ability to raise funds for its effort.
The preservation group and railroad agreed in January, in a deal overseen by the Coast Guard, to allow BNSF's preparation for a new bridge to move forward while giving the preservation group time to find a public partner to manage efforts to turn the old bridge into a pedestrian crossing [see "Digest: New agreement allows BNSF Bismarck bridge project to move forward," Trains News Wire, Jan. 25, 2021]. But that agreement set a March 15 date for the Friends of the Bridge to find a public partner; the partner that agreed just before that deadline, the Burleigh County (N.D.) Commission, subsequently withdrew from its agreement [see "Digest: NJ Transit begins testing …," News Wire, April 6, 2021].
The cost of preserving the existing bridge has been estimated at $50 million to $90 million, which the president of the preservation group has said is discouraging government partnerships. Friends of the Rail Bridge said earlier this year it had a $17,000 bank balance and would seek grants and donations for its effort. A draft environmental impact statement covering two possibilities — demolition of the current bridge with a new structure in its place, and construction of a new bridge near the current, preserved bridge — is due in June, the newspaper reports.
Efforts to replace the bridge have become a long-running problem for the railroad, as a BNSF official outlined at a 2019 industry conference [see "BNSF focuses on regulatory challenges …," News Wire, Jan. 8, 2019]. Because of its age, the bridge has a 25-mph speed restriction, and with each passing year, the cost of replacing it increases.