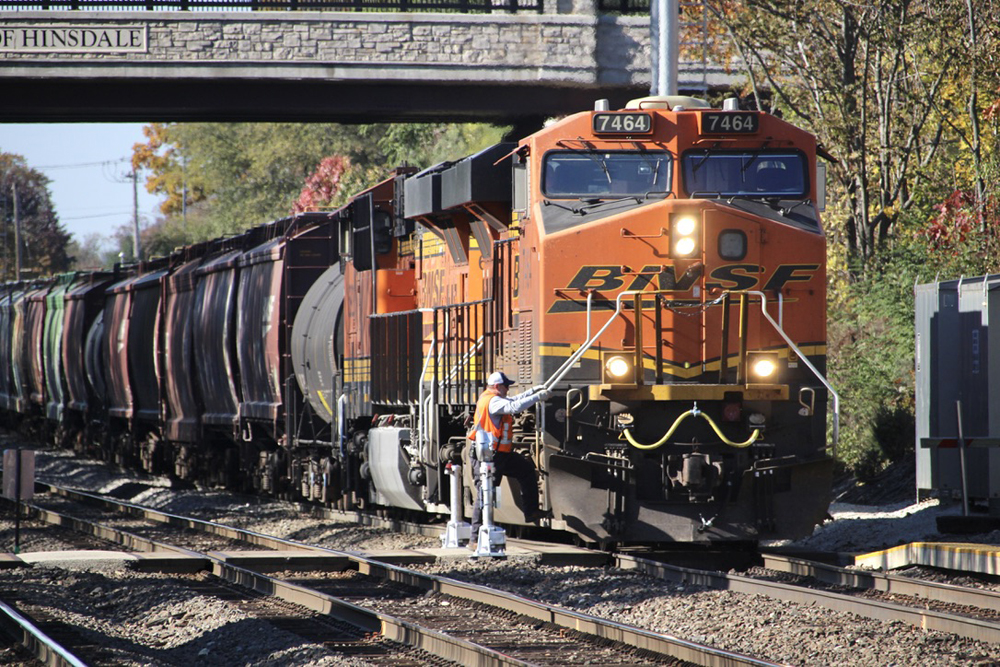 ---
FORT WORTH, Texas — BNSF Railway has modified its controversial Hi-Viz train crew attendance policy in response to employee feedback, but officials at two unions say the changes fall far short of what is needed.
The changes, which take effect June 1, were announced in a video released on Friday.
BNSF launched the policy in February, saying it would help improve crew availability, enable the railroad to remain competitive, and give employees greater visibility into their schedules. But union leaders have been highly critical of the program and threatened to strike over the matter.
"Many of you have raised concerns about the program's details. We hear you," Matt Garland, vice president of transportation, says in the video.
Crews can bank up to 30 points under the attendance policy, but lose points when they miss work. If an employee loses all of their points, they can be terminated.
The changes announced on Friday include elimination of the penalty for not working the day before or after a vacation or personal day.
The revised policy also adds new ways crews can earn additional points. Top performers, defined as those who rank in the top 10% for hours worked at their board or station levels, receive seven points. Crews also can earn a point for working the day before or after vacation or a personal day; for working a "high impact day;" and for starts between noon Fridays and noon on Sundays.
In addition, crews can now bank up to 37 points.
"BNSF's proposed changes to its Hi-Viz attendance policy are unimpressive," Greg Regan, president of the Transportation Trades Division of the AFL-CIO, said in a statement on Monday.
"These changes do nothing to address the policy's fundamental flaws. For example, allowing a worker to bank a few extra points will not offset the massive 15-point cost of a worker missing one high-impact day," Regan said. "In addition, it is appalling that BNSF's response to widespread reports of worker fatigue is to incentivize this exhaustion. Yet, BNSF's proposal to reward the top performers, or those who have the top 10% of work hours, is a clear attempt to incentivize these fatigued workers to double down. This will not stand."
Brotherhood of Locomotive Engineers and Trainmen National President Dennis Pierce called the changes "little more than fluff," saying the policy "has caused hundreds of BNSF's employees to quit and it has made recruitment of new employees a nightmare."
Noting the changes were made without input from unions, Pierce said in a statement that the modifications "do little to meet the members' or their families' needs," and that the changes reflect both the union's campaign to "expose [the railroad's] abuses" and pressure from shippers, the Surface Transportation Board, and Congress.
"The sad fact is that the nation's supply chain challenges are partially due to a 29% cut in rail labor at the Class I railroads over the past six years," Pierce said. "The Hi-Viz attendance policy exacerbates the breakdown in the supply chain and drives more railroaders away at a time of critical need. Not only is the supply chain failing, but this abusive and punitive attendance policy is breaking apart families and causing locomotive engineers and other railroaders to come to work dangerously fatigued. … It's time for BNSF as well as other railroads with similar attendance policies to sit down with their unions and negotiate staffing policies that work for the railroads, their customers and their employees."
— Updated at 11:10 a.m. CDT to correct attribution of union statement to Greg Regan; updated at 2:30 p.m. CDT with statement from BLET President Dennis Pierce.